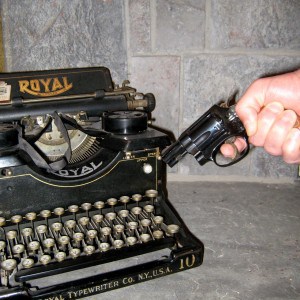 Monday, 8:34pm
Reno, NV
"The horror… the horror…" (Brando, "Apocalypse Now")
Howdy…
Let's do another quiz, what d'ya say?
With TWO prizes.
This one is very simple.  Or not, depending on how much you've been paying attention.
Let's start with the good stuff. 
Here's what the winners will get: A twin package of Extreme Special Reports that have only been available as bonuses before…
Extreme Report #1. The super-potent (and much sought-after) "Power Words" collection…
Extreme Report #2. And the mind-altering "11 Quick Marketing Fixes" checklist.
These are easily among the most valuable reports a marketer could ever get your hands on.
Though they come as bonuses with our larger packages (there is no other way to get them)… these little treasures are often cited as "major game changers" when past customers tell me which piece of advice or tactic fundamentally impacted their life.
The first report is a thick compendium crammed with specific words and phrases I've plucked from successful ads I've penned over the years.
These words and phrases are the building blocks of explosive hooks and "drive 'em to tears" emotionally-compelling writing…
… the stuff that can turn a lame-ass, boring ad…
… into a shockingly-persuasive Blitzkrieg winner.
Words matter.  Often, a single word change in a headline can affect results so dramatically, it defies belief.  (And really, results are what it's all about in this biz.)
The second report consists of the actual checklist I used throughout my 25-year career when consulting with new clients…
… especially when they were mired in doubt, or rushing off a cliff with brutally-bad marketing plans.
These 11 "fixes" are simple… easily applied… and yet hidden to most marketers.
This kind of basic insight is what separates the gun-slingers from the clueless canon-fodder in direct response advertising.
So, yeah… if you don't have these twin-dynamo reports yet…
… you want them in your tool kit.  (Many of the best online wizards you know about keep their dog-eared copies of these reports close by whenever they create new marketing.)
Now… who wins these reports?
Here's who: The first person to post the correct answer in the comments section below…
… and the eleventh person to post the correct answer.
Two glory-drenched winners, separated by a small mob of "Nice Try But No Cigar" almost-winners.
I'm doing this because — last time — the Usual Suspect Smart-Asses descended on Quiz #7 like sharp-talking stalkers waiting in a dark alley…
… and nailed the answer early.
Okay, they weren't smart-asses.  They just happened to be up late when I posted, or on the other side of the globe (all bright-eyed and sipping coffee, while the rest of the blog readers were slumbering peacefully).
So, we're gonna make this Quiz a fair fight, dammit.
I counted up all the smart-asses… and there are approximately ten of you out there.  (You're actually among my favorite folks to banter with, and I deeply appreciate your faithful readership of the blog… but you keep gobbling up these Quiz prizes too easily.)
Thus… there is now an opportunity for someone outside the Rant's inner circle to grab at least the second prize…
… as Correct Answer #11.
Okay?
Okay.
Here's the question:
Fill in the rest of this statement:  "Writer's block is…"
And… go.  The Quiz has started.
What do you think writer's block is?
Please bear in mind that there were over 600 attempts to win the last Quiz…
… so get busy.
There are no "wrong" answers… as in, you can't lose when you engage your brain in critical thinking like this.
But there's only ONE right answer.
And here's a hint: It probably isn't what you think it is.
"Writer's block" gets a lot of discussion in the culture.  Everybody's got an opinion or theory.
Books have been written about it.  Famous fiction writers have reportedly suffered from it.  Almost everyone who's ever stared at a blank page believes they know what it is.
And I'll tell you this:  They're all dead wrong.
And that's all I'm gonna say right now.
The Quiz is on.
I'll check in over the next few days…
… and announce the winner…
… on Friday.
Go get 'em, tiger.
Stay frosty,
John
P.S. One more rule… which is necessary only because the Usual Suspect Smart-Asses are already considering ways to get around being "fair":
You can post as often as you like… but you cannot post the same answer more than once.
Ha!
See, I know some of you were already gonna post what you thought was the correct answer eleven times in a row, copying and pasting real fast… in a bid to win BOTH prizes in an outrageous sweep of cleverness and evil manipulation of everything that is sacred about good sportsmanship.
Hey — it's what I would have done.
How do you think I stay ahead of you guys?
So — we have a Fairness Doctrine here.
Please respect it.
Now… go crush the competition.  Bragging rights are important in this biz…
P.P.S Friday Note: Hey… I know I'm late with the "answer post" here…
… just got delayed a bit by something unexpected.
I'll get the new post up tomorrow…
And yes, there are winners…