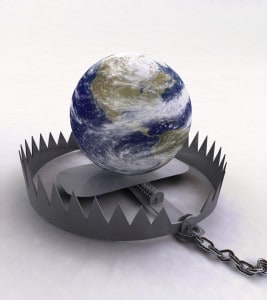 Saturday, 8:53pm
Reno, NV
"It's the end of the world as we know, and I feel fine…" (REM)
Howdy…
Nice big glob of seemingly-nasty news hit the grid this week.
The FTC (brrr, even the name causes Halloween-style chills, doesn't it) fired a shot across the bow of the good ship Capitalism with their "final guidelines governing endorsements and testimonials".
In case you've been in a coma or something, here's the Fed-sponsored link:
http://www.ftc.gov/opa/2009/10/endortest.shtm
What immediately followed was a lot of hair-on-fire screaming and rending of clothes by both online and offline business owners who use testimonials or endorsements in their marketing.
It was kinda fun to watch, actually.
A lot of entrepreneurs, I've noticed over the decades, are skittish enough already about the whole "provide a product to customers in exchange for money" model of doing business.
They're like "Are you sure we can do this?  Actually accept moolah just for giving people this thing of value we created?"
It's understandable to be a little paranoid.  Business is part of the grown-up world, all full of consequences and responsibilities and risks…
… as well as the totally uncool embarrassment of finally getting serious about the very adult requirement of applying salesmanship to your excellent marketing adventure.
So, when any of the federal "alphabet agencies" get frisky with new rules, the entrepreneurial world goes bonkers.
Now, I'm not a lawyer.
And I'm not gonna offer anyone legal advice here.  You do what you think is best.  You're the only one who can correctly judge your own levels of raw paranoia against reality.
However… here is (more or less) what I shared with the folks now embroiled in the Simple Writing System mentoring program (which is steaming full-throttle into it's second week).
I thought you might want to hear a less-hysterical side to this story:
Ahem.
First, relax.
Every detail of this fresh ruling is still very vague.
The panic around this news is uncalled for. The Feds are not going to suddenly load up their compliance forces with jack-booted thugs and go after entrepreneurs. Their focus is and always has been the large scofflaws. They will follow the money. (Large corporations like Jenny Craig and Subway have alerted their teams of lawyers.)
Yes, the "possible ramifications" of the ruling are a Conspiracy Theorist's wet dream. Then again, so is every other ruling the FTC has ever put out.
The diet industry — which is used as the most common example when discussing this ruling — needs periodical policing.
However, the first time a regulator tries to define the idea of "typical" results, they are in for a mind-bending exercise in irrational thinking.  What, for example, is a typical dieter?  Someone who needs to lose 15 pounds?  Fifty pounds?  A hundred?
How do you figure it out?  There are three forms of statistical averages — mean, mode and medium.  Each can be a wildly different number.
The Feds will not find an ally among mathematicians or scientists while trying to define "typical".
Nor will they find an ally in the Constitution… where, last time I looked, there was still a guarantee of free speech.
Of course, what the Feds are responding to are the egregious abuses of endorsements and testimonials.  And God knows, there are liars and thieves and scoundrels in the business community who need to be outed and punished for polluting the joint with their scammy ways.
And it would make the Feds' job oh-so-much easier if everyone would just stop… selling stuff… by providing context and examples that help prospects decide if they want to participate or not.
You know — all that advertising voodoo that fuels the engines of capitalism.
Meanwhile, over at the FBI, they're hoping that criminals will stop murdering and plotting and stuff… because it's really hard to keep order when people insist on being evil.
Also, the Oakland Raiders would like the rest of the NFL to stop picking on them.  Maybe let 'em win a freakin' game or something already…
Look — no marketer is forced to use testimonials.
Nevertheless — and regardless of what you may have read in various other blogs — they remain powerful tools for anyone in business. (In fact, let's hope, real hard, that your competition gets so scared that they never use testimonials again in any way, shape or form.)
And, anyway… even if you do decide to never use a testimonial, you still should know how to collect them, what they should look like, and how to communicate with happy customers who want to say nice things about you.
It's still the best kind of feedback you can get about your business.
It's… oh, what's that phrase… oh yeah: Word of mouth.  A thumb's up from a satisfied customer.
Again, I'm not a lawyer.  Haven't talked with one about the ramifications of this ruling (which is not, by the way, an actual "law", but a recommendation).
Here's some common sense, anyway: Don't compensate people for giving you a testimonial, and say so in your ad.  (And if your stuff is so crappy that you have to pay people to say something nice about it… then create better stuff.)
If you get compensation for touting a product on your blog (which appears to be the crux of the ruling, despite the "deeper" readings by the more paranoid among us), come clean on that.  No biggie.
If you're unsure about anything, pay attention over the next couple of months.
This ruling goes "official" December 1… and between now and then, there will be a lot of discussion about it.  (Is Jared of Subway out of a job?  And, since most diets fail most of the time… because people don't follow them… will every diet book ever published in history have to be amended to reflect that fact that anyone who actually lost weight is a freak of nature?)
(Will the Home Shopping Network be forced to stop touting celebrity make-over programs?)
(Will any advertiser, ever, be allowed to show people in their ads… for fear that any implication of "typical" is not breached?)
Folks, this kind of hysteria shows up every few years in advertising.
Twenty years ago, for example, the Feds ordered magazines to put a big "Advertisement" slug on top of every long-copy ad run in the publication.
You know… so no one would get confused.  We don't want anybody's head exploding because they accidentally read an ad in Cosmo, thinking it was a real article.
Marketers flipped out… until they realized that putting the slug on top of their ads didn't affect results (and sometimes actually INCREASED sales).  (Oh, the irony.)
The diet industry — which, by the way, I have refused to get involved with as a freelancer for over a decade now — has been subject to endless "you can't do that" rulings on showing people's before-and-after tales…
… and in the end, the smart marketers comply, and do and say everything the rulings demand…
… and life (and profit) goes on.
I'm not saying this ruling is something to ignore completely.
We'll have to see how it plays out in reality… meaning, how the Feds actually decide to follow up, and how any actual enforcement (which clearly appears to violate the Constitutional protections of free speech) manifests itself.
It's worth a long discussion.
I'm all for hampering the scam artists out there.  (Just to be clear:  If you're an unethical marketer, I hope you rot in Hell.  After getting your head handed to you here on Earth.)
However, trying to re-invent capitalism by kicking it in the balls is not the way to go about it.
Again… this vague, extremely ambiguous ruling (not a law) won't go into effect until December 1st, and there will be much input from established businesses between now and then.
The lawyers are loving it.  Let the paranoia ooze and scorch!
This is not, however, the end of capitalism as we know it. Nor are testimonials going away. (Again, pray that your competition stops using them, though.)
Let's see what other shoes drop over the next few weeks, shall we?
Stay frosty,
John
P.S. And yes, we get affiliate commissions from any sale resulting from someone clicking on any of the banners on this blog.
It's called marketing, folks.
UPDATE: The esteemed New York Times weighs in on this issue:  http://www.nytimes.com/2009/10/13/opinion/13tue2.html?_r=1&ref=opinion