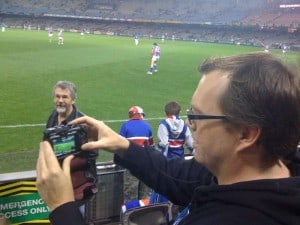 Tuesday, 12:20pm
Melbourne, Australia
"Buttula spruiks arrival of Spork at his new gig." (Actual headline in last Thursday's "The Australian" newspaper)
Howdy…
Reporting in from the fringes of the Outback…
… okay, I'm actually comfortably settled in an intriguing old hotel in Melbourne, nowhere near the Outback.
It still feels like I'm far from home, though.
Two weeks into this March Across Australia now, part of a bedraggled troupe of speakers, and I'm thrashed.  Don't get me wrong — this is a great country, and we've been warmly embraced by the locals and shown amazingly-generous hospitality daily.
It's just a long damn trip… made longer by that nasty plate of deep-fried snapper I had Saturday night at what looked like a decent little upscale restaurant downtown.  I forgot the old rule of traveling:  Never eat stuff that arrives with the eyeballs still staring at you.
I deserved the ensuing bout of immune-system-destroying dysphoria, I suppose.  Last December, in Dubai, a bunch of us sauntered down to the bad part of town to sample "native" fare the night before we spoke… and nothing happened.  We gobbled questionable curries and unidentifiable chunks of stew, and lived to tell the tale.
Afterward, we all looked at each other and said "What have we done?"
For most of my life, I've had little angels (or maybe just confused demons, I dunno) looking out for me… so I somehow managed to stay one step ahead of the Federales in Mexico, just-missed by the would-be hit-and-run jalopy in Hollywood, and usually slightily out of reach of the snarling bugs everywhere else yearning for a vacation in my intestines.  (To name a few examples out of many.)
So, this time I got caught.  It's not Oz's fault.  It's all on me.
And, I'm recovering fairly quickly.  We have a couple of days to dig deeper into Melbourne's wonders (my second time in the city), and then travel to Brisbane for the final leg of this preposterous journey.
Seems like Sydney was a month ago.
So, anyway, I'm just checking in to let you know that I believe I've found the answer to the long suicidal swan dive that American newspapers are taking.
And it's very simple: Take lessons from the Aussie journalists.
The newspaper biz is thriving over here.  Each town supports at least one local rag, plus a national one.  The issues arrive each day with a thump — they are still huge, still happily sated with lots of ads, and (most important) still a rollicking good read.
That's the key, as I see it.
It's the writing.  At first, it felt like I was trying to interpret a completely different language — especially in the editorial sections.  But headlines like "Stone the Kroes, she's Neelie gone" actually make sense once you get into the story and make the connections.  (These are names of politcians well-known to Aussies.)
More to the point… the actual journalism in the news sections performs the kind of two-step dance I remember from my teen years (when I was so in love with newspapers that I haunted journalism classes, and dreamed of being the next Herb Caen).  You really can cover the standard who/what/where/why/when/how… AND inject some vivid prose with a touch of opinion… thus delivering on the basics of good reporting, while not being boring.
American newspapers are among the most mind-numbing waste of trees in world (in my humble opinion).
They didn't used to be so dull  Check out some archives — you can go back to Mark Twain's day, up through WWII and into the 1970s, and find writing that pulls you in and packs a whallop.
Now?  We're lucky to get a couple of decent columns from Maureen Dowd or PJ O'Rourke each year in the editorial section.  It's hard to get through the news sections of the NY Times, the Wall St Journal, and the old once-venerated Washington Post without a nap anymore.  Dull, dull, dull.
It's not like we're not living though one of the more interesting times in history, either.
The Aussies show craft with their writing.  They are brash, bold and fearless about challenging conventional wisdom, and speaking their minds (usually after spending at least a little time getting their facts straight).
The US news media started veering sideways around two decades ago, and hit full stride in the wrong direction right when the Weblog was invented on the Internet.
And right now, blogs are slaughtering stateside "official" journos for fleshing out stories of interest, working from kitchen tables and home offices.
There are lots of culprits available for blame in this slo-mo hari kari pact.  I grew up with 3 decent newspapers working hard each day to outdo, humiliate and destroy each with better reporting, better writing, and a better experience.  (Count 'em: The LA Times, in it's long-gone heyday, the dearly missed Herald Examiner, and the local Daily Report in Cucamonga).
Then, "efficiency" raised its ugly head, and savvy moguls realized they could outsource and deliver the "news" from central locations… and stop paying writers a living wage.  So, instead of a full staff in towns like Reno, where I live, we've got a skeleton crew slapping together prepackaged issues that have been designed to offend the least number of folks, while efficiently delivering a "product" to wrap around the advertising.
Yuck.  Same thing happened with radio.  There are just a handful of media comglomerates now (including the honking big Australian invader run by Murdock), for both radio and newspapers in the states… and they possess all the verve and personality you'd expect from a distant corporate board.  Zilch.
Oh, there are a couple of local writers kept on the dole to cover the rescues of tourists in kayak accidents, the wildfires, and the scandals in city hall too big to ignore.  But the "coverage" is thin and frightened, like mice peeking around the corner ready to bolt at the first sidelong glance from the pussycat.
Like GMs grisly demise, this did not have to happen.  The Web isn't killing newspapers.  Newspapers are killing newspapers.  With sheer incompetence.
I see a silver lining, though.
Now that the best and the brightest of our scribes are no longer being seduced by Wall Street (cuz there aren't many jobs left there)… and the shiny bright distraction of greed has dimmed a bit… there is an opportunity for more decent writers to re-engage with the noble profession of journalism again.
We need them, too.  Desperately.  This fragile little experiment in democracy can't survive without the Fourth Estate kicking ass and taking names.
It may all still end up online, which is fine.  Or, more likely, some workable combination of online and offline presentation.
Maybe the new manifestation will be an actual "newsblog".  The bloggers now working are limited in their ability to dig for stories from scratch — most (like Drudge) must operate solely from swiping the work of real professional journalists for the raw material.
Others (like Huffingtonpost.com) mix it up a bit more… combining nicked stories from the newswires with additional reporting (sometimes) on top of the carping and critiques.  A few (like Politico), though blatantly slanted to one side or the other of the political spectrum, have actually broken major stories later picked up by the mainstream media.
It's a mess out there right now.  With the not very good result of young people ignoring all actual news, and getting their worldview from places like YouTube (and their facts from the manipulatable Wikipedia).  I like all these alternative sources… but it's pretty scary to think upcoming generations are relying on them.
Another advantage the Aussies have, of course, is that they're sports-mad.  I believe Oz has a higher percentage of the population earning a living as a respected pro athlete than the US by a wide margin… and nearly every town has a pro team in one of the main sports.
And the best way to keep a sports nut happy is to print out detailed analysis, with lots of obscure stats, of each game… along with cheeky, opinionated, and fur-raising commentary.
(Ed Dale took us to a footie match, the home town Bulldogs against the Richmond thugs, and we had a blast.  I don't understand why their version of the game hasn't caught on the States.  It's a controlled riot, easily as entertaining as any sports event I've ever witnessed.)
The folks who know how to write are dominating the conversations going on right now, in every part of your life.  They're scripting the movie we're all living out, and if you want to have a say, you'll need to get your chops sharpened.
The Aussie audiences love my message of learning the easy path to becoming a writer.  They intuitively know the power of the pen (whether it's delivered by email, video, webpage, or with newsprint) because the evidence is everywhere.
We're losing that sense in the US.  The mainstream media will sell its soul for another ad dollar in revenue, and has no interest in the common good.  Newspapers, reduced to thin wrappers for the stuff that doesn't do well on Craig's List, are abandoning their responsibility to keep The Man on his toes.
This will change.
The new "elite" will be those in possession of good information… and they will be tempted (as always) to horde it and not let anyone else in on the tips.  Without good investigative reporting, they'll get away with it, too.
Good reporting requires sacrifice and nerve and hard detective work.  The ranks of reporters are thin at the front lines, and they will welcome fresh help from smart, outraged, energized new writers.
Gonna be an interesting ride, at any rate.
In the meantime, dig harder for the truth when you can.  Don't get lulled into a bored trance, just cuz we're lacking local chutzpah in the news media.
As the Aussies show us, it's still a noble — and very exciting — profession, when done right.
Stay cheeky,
John Carlton