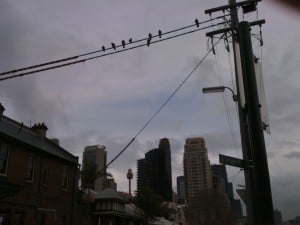 Tuesday, 8:54pm
Reno, NV
"You can check out anytime you like, but you can never leave…" (Eagles, "Hotel California")
Howdy…
Today, let's explore a little-discussed part of running a biz…
… using a couple of enlightening (and very brief) anecdotes from my recent (and continuing) "Adventures With Hotels".
Let's call this lesson: The Faded Lady and the Trump.
With all due apologies to Disney's classic dog-romance movie, of course.
See if you can spot how the following short story applies to YOUR business…
Ahem.
Each of the last two weekends found me in different cities, staying in hotels I booked online, sight-unseen.
In Sin City, it was the splendiferous Trump International Hotel Las Vegas.
In San Francisco, the once-famous, now-infamous Cathedral Hill Hotel.
Now, the Trump joint was built with luxury in mind.  Shiny, tall, imposing building with huge well-apportioned rooms and super-modern equipment like elevators and art.
As a "product", the building was great. (Though it seems idiotic not to have any gambling on the premises, as a wanna-be "player" in the Las Vegas scene.  I heard that Trump got skunked on getting his gambling license, but that's not the spin the staff offered.  "We just didn't want gambling here," is what they said, unconvincingly.)
Great price for the rooms, too.  (Most likely because of the lack of casino amenities and dearth of unit sales, which turned it from condo to hotel.)
I have complaints about the joint… but not because of the room, the rate, or the basic delivery of stuff like air conditioning, clean water, nice beds, etc.  (In fact, their pillow-top beds are amazing to sleep in.  Like being cuddled by angels.)
Now, back in SF, it was a completely different situation.
We hosted a gathering of writers, affiliates, and other mucky-mucks at the Cathedral Hill Hotel because we wanted to treat everyone to an evening with the world-renown "Beer Chef", who puts on fabulous dinners there once a month.  (You can read more about Bruce Paton's unique meals at www.beer-chef.com. )
You want the "Beer Chef", you deal with Cathedral Hill. (And yes, we very much wanted his magic.  He creates these shockingly-tasty gourmet meals there, with each course matched by a local micro-brew beer instead of boring old wine.  It'll knock your socks off, even if you aren't well-versed in pilsners, ales and lagers.)
We also started the day off with an afternoon-long brainstorm session in the hotel's main meeting room.  (I'm sure you caught some of the updates on Twitter from the luminaries and stars in attendance.)
However…
… none of us had ever stayed at the hotel.
And while it has a storied past (well-chronicled in San Francisco lore), it has, alas,  fallen on hard times.
Culminating in being bought out a short time ago and scheduled for the wrecking ball.
Ouch.
We made the most of it.  The stories and jokes we all shared about our rooms and experiences in the hotel are howlingly funny…
… but still, as a "product", there's no getting around the fact that the building was in serious disrepair.
Sort of like a once-beautiful lady who has fallen on hard times, and ended up sacked-out in a filthy alley, soused with cheap booze and a reputation heading south at light speed.
The price was actually a red flag: You cannot stay in the city, in a decent room, for anywhere near the rate Cathedral Hill was asking.
Kind of like seeing an ad for a luxury Caribbean Cruise in the paper for five bucks.  It sort of sets off your early-warning alarm.  (Five bucks and your kidney, maybe.)
So… while no one got robbed, or found a dead hooker in their room… Read more…