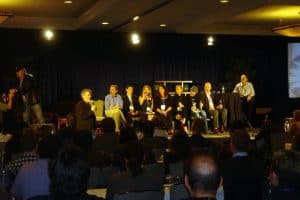 Saturday, 4:43pm
San Diego, CA
"Arriba y arriba, por ti seré, por ti seré…" (La Bamba!)
Howdy…
Important alert today.
If you know, in your heart, you shoulda been there with us for the Action Seminar last week…
… and you just couldn't make it…
… we've now got the Primo Solution for you.
It's this: We filmed the whole darn thing — every thrilling, shocking, life-altering moment on stage, with a pro camera crew — and have decided to uncork the video immediately.
It's now available, online, and ready for you to dive into with gusto.
To gain instant access to the professionally-shot video of this already-legendary Action Seminar, go here now.
What you're about to witness is a seminar different than any other you've ever heard about, attended, or caught rumors of.  We called it the "Action Seminar" because it was all ABOUT action…
… meaning, finally getting your plan together to make 2011 your best year ever…
… and kick that puppy into high gear, right freakin' NOW.
The joint was crawling with Rockstar marketers, like Perry Marshall, Mike Koenigs, Jason Moffatt…Read more…