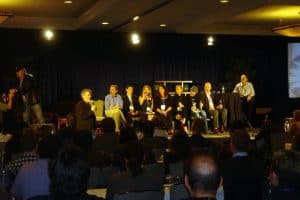 Saturday, 4:43pm
San Diego, CA
"Arriba y arriba, por ti seré, por ti seré…" (La Bamba!)
Howdy…
Important alert today.
If you know, in your heart, you shoulda been there with us for the Action Seminar last week…
… and you just couldn't make it…
… we've now got the Primo Solution for you.
It's this: We filmed the whole darn thing — every thrilling, shocking, life-altering moment on stage, with a pro camera crew — and have decided to uncork the video immediately.
It's now available, online, and ready for you to dive into with gusto.
To gain instant access to the professionally-shot video of this already-legendary Action Seminar, go here now.
What you're about to witness is a seminar different than any other you've ever heard about, attended, or caught rumors of.  We called it the "Action Seminar" because it was all ABOUT action…
… meaning, finally getting your plan together to make 2011 your best year ever…
… and kick that puppy into high gear, right freakin' NOW.
The joint was crawling with Rockstar marketers, like Perry Marshall, Mike Koenigs, Jason Moffatt…
… and I even managed to haul "E-Myth" author Michael Gerber on-stage for a truly shocking (and enlightening) interview.  (You HAVE to see what the legendary Gerber did, to understand why everyone said it was a drop-dead highlight of the show.)  (Hint: NOT for the weak of heart.)
Plus, of course, there were all the notorious writers, the Hall-of-Fame guru's, and the infamous experts who delivered the presentations, panels, interactive Hot Seats, and hands-on coaching…
… who you'll find listed here.
You now have a golden opportunity to witness the entire shenanigans that went down on-stage… glean all the shared info, secrets and specific "action steps" laid out…
… and you can do it from the comfort of your home or office.
Look — you let the opportunity to BE there slip past you.  Now, don't you DARE let this opportunity to experience it all from your virtual front-row seat slip away, too.
I'll be back here with a killer new blog post in a few days…
Stay frosty,
John
Side note: That quote, above, from the song La Bamba, translates very loosely as "Faster and faster, I'm there for ya".  The tune became a theme song among the throng of copywriters and "marketing royalty" who came to help us fulfill the very generous and large promises of the event…
… and I think there's a grainy cell-phone video floating around of DoubleD ("A-List" copywriter David Deutsch) leading the sing-along in the after-hours VIP party.
The lyrics fit. All of us — a dozen of the most respected and highest-paid writers on the global scene, another dozen-plus movers-and-shakers, experts and behind-the-scene wizards — were committed to making the event a notorious success.  By sharing the good stuff, performing hands-on solutions and fixes to biz problems, and seeding all the vigorous networking with "I'll watch your back" participation.  Dance the Bomba, indeed.