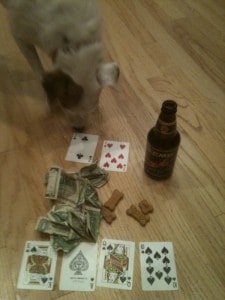 Sunday, 9:08pm
Reno, NV
"Hit me.  Hit me again.  Again.  Arrrgh…" (Blackjack dude going down…)
Howdy.
One of the truly fun parts of being in business are the Life Lessons you get to learn.
Or, rather, you're forced to learn (if you don't want to spend your career blundering down the same blind alleys time after time).
Early on, I took notice of the various quirks people exhibited running a business… especially the entrepreneurs, who were unencumbered with the rule books that franchise owners and traditional corporations worked under.
Now, you'll see startling examples of strangeness in any group of humans, doing anything, anywhere.  So the first lesson is probably to acknowledge that reality…
… and stop pretending we're a race of logical, rational, functional beings going about the business of running a civilization efficiently and sanely.
We're not.
And savvy, experienced biz veterans survive by learning to work within the limitations that come with dealing with other humans.
It's actually one of the more fun parts of entering the biz world, once you get a handle on the basics of how spectacularly humans can screw something up.
Don't get me wrong — I love people.  But I love them in spite of their near-consistent tendencies to botch things completely.  (I'm by no means above the fray).  (No one is.  Scratch the surface of the most "together" person you now, and you'll find evidence of shocking weirdness.)
The reason little insights like these are so awesome, is that they can help you stay balanced… Read more…