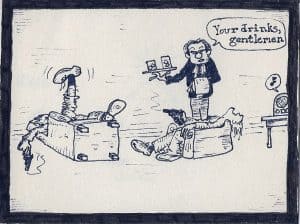 Saturday, 3:53pm
Reno, NV
"Well, excuuuuuuuse me." (Steve Martin)
Howdy.
One of the very bright dividing lines separating happy, successful folks from the unhappy wannabe's…
… is the role of excuses in moving through life.
Dudes and dudettes who get stuff done stare down obstacles and find ways through or around them…
… no matter how long it takes, or how many times they fail at it.
They're the minority.
Much more common is the notion that having a good excuse lets you off the hook for getting something done.
Our bollocked-up school system encourages this — oh, your dog ate your homework? Okay, you can have an extra day.
And it just gets worse in adult life — oh, sorry I T-boned your car there, but I just broke up with my girlfriend and was re-reading her last text to me… sniff…
At some point, most civilians will be on their death-bed, looking back on their failures and crushed dreams, and have to find cold comfort in the idea that at least they had good excuses.
They tried, sort of, and had their feelings hurt or their efforts rebuffed, and what can you do?
Life's hard, right?
Okay, fine. Cuddle up with your excuses.
You might garner a bit of sympathy from some folks, but you'll just continue to be disregarded by anyone feasting on life and getting stuff done.
Start with being late. If you think it's okay, as long as you have a plausible excuse (the traffic lights were absolutely conspiring against you, or gosh, clocks are just hard to understand, you know?)…
… then move to the back of the line right now.
You may actually HAVE a good excuse this time…
… but if being late is "who you are" (and yes, you are judged harshly and continually in the biz world on this stuff)…
… then consider WHY it's a habit.
Look deep. It may be passive-aggressive behavior you picked up as a kid. It may be a symptom of happiness-corrupting disorganization (which no potential client wants any part of). It may be undiagnosed ADD, or even the first ripples of real cognitive disorder.
But usually, it's just a habit. You keep getting away with it — or you THINK you're getting away with it (and really, the people around you just stop relying on you, and consider you a liability).
The consequences seem mild — maybe somebody gets pissed off once in a while, or you miss a flight. Whatever. Life is hard, right?
Get off my case.
The problem, of course, is that if you want to play in the level above you — in biz, romance, sports or just generally effective living — you are going to pay dearly for your bad habits.
Top clients won't put up with sloppy non-professional behavior. Self-respecting potential romantic partners will avoid committing to you.
And a whole bunch of cool life experiences will vanish…
… all because you think having a good excuse absolves you from the responsibility to be where you said you'd be, when you said you'd be there… prepared to do what you said you'd do.
Getting away with something is NOT the same as "succeeding".
Highly effective people, who get shit done and succeed at life, rarely allow excuse-artists into their lives in any meaningful way.
Buy a fucking watch. Add twenty minutes to your estimation of how long you'll need to get somewhere (or more)…
… and if you're early, find a spot to kick back and check email or Facebook or just relax. Or read a book. There's no such thing as "wasting time by being early". Be prepared for it.
And it's worth repeating: Yes, the people operating in the level above you ARE judging you by these small behaviors.
Maybe other folks in your world are just character actors, whose time isn't worth much. (That's the way stone-cold sociopaths think, you know.)
However, the successful crowd you want to be dealing with will not put up with that bullshit.
Okay, you better get moving. You're gonna be late…
Stay frosty,
John
P.S. The foundation of living effectively…
… is really just a bunch of simple insights, rules and strategies that are easy to adopt…
… once you figure out what they ARE.
Simple shortcut to finding them out, right here.
P.P.S. Yeah, I drew the cartoon at the top. College days, when I was the staff doodler at The Cal Aggie Times in Davis.
This was my idea of wickedly insightful humor.
I dunno… what do you think?