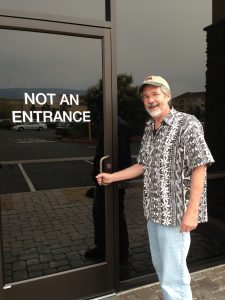 Saturday, 1:55pm
Reno, NV
"Clowns to the left of me, jokers to the right…" (Stealer's Wheel)
Howdy.
Thought I'd share Heads Up Alert #13 with you today:
Your world is crammed with fools, tools, and drooling Neanderthals who, at best, are merely amusing characters in your life's movie…
… but who can also be, at worst, the agents of your destruction.
Not everyone likes you, remember.
You have close friends, relatives, neighbors and colleagues secretly rooting for you to fail. (Sometimes not-so-secretly.)
There are folks out there who can muster alarming rage and target it directly (and very personally) at you…
… for crimes they've only imagined you've committed.
And, there are charming bastards out to harsh your mellow because that's the game they need to play in life.
Humans are constantly conflicted over the existence of others in their world.
Heck, a good percentage of folks are in constant conflict with themselves — they don't even need someone to play with.
(My favorites, though, remain people who get mad at things like machines and objects. Like, that toaster is in league with his pitching wedge and the starter in his car, out to get him. So, destroy them!)
When you poke your head above the general fray — by becoming an entrepreneur, volunteering to help the PTA, run for office, whatever…
Your first lesson about surviving as a more public person will be to thicken your skin.
Cuz you're gonna be attacked, no matter how sweet and lovable you are.
Your motives will be questioned, your history will be combed through for gossip-ammo, your looks will be mocked…
… and it can escalate fast if you engage.
Cuz that's what the worst of the haters need to do — find a wall to bounce their rage off of.
When you respond, or even pay polite attention to the trolls who will come after you (and they will come in droves, relentlessly)…
… you are playing a game where you are guaranteed to lose.
Cuz there are no rules for the troll, and no "winning" the argument or setting the facts straight.
They just want to jumpstart drama and destruction, and the more casualties the better.
Here are 3 very simple rules to help you out:
Rule #1. Pay as little attention to critics and haters as possible. In biz, hand off complaints to your customer support person or team, and have specific tactics for handling all situations.
Often, the best response will be to simply apologize, refund and blacklist the troublemakers.
Yes, even if they're wrong.
Key: YOU should get away from dealing with trolls early in your career.
All legit complaints should have an easy path to get past your assistant, because you need to know how good people are being affected by your stuff.
But the trolls should be caught and released back into the wild without the chance to inflame your sense of decency and optimism.
---
 You know the best way to beat the trolls and haters?
Find a like-minded group of people to support you and bounce your best ideas off of. No one becomes success all on their own. Everyone has help, and you get a whopping generous supply of it by joining the Marketing Rebel Insider's Club right here.
---
Rule #2. Learn to quickly reframe incoming assaults on your integrity and worth, so you halt any adrenaline dumps before they knock you off your game.
Consider the source, remember who you are, remind yourself that the brave new digital world is wired to give trolls cover while they sow grief. (Comments, reviews, Yelp, etc.)
And know that legitimate complaints can help you become better…
… and any initial burst of anger or aggression can easily be turned around with some good old listening and calm response. (Some of my most rabidly-loyal customers started out hating my guts over something we easily clarified. Seriously. It's like 3rd graders getting in a fistfight, only to become best friends for life afterwards.) (Okay, maybe that's a male thing…)
Remember: You're writing the script of your movie, as much as the universe will allow. And you really do have near-total control over your emotions, your fight-or-flight responses, your decisions to hate, love or just see what happens later.
Good reframing is just editing your script, so instead of losing control, you re-shoot the scene in your head so you're the understanding, water-off-a-duck's-back Adult In The Room who can remain in a state of Zen calm even while everyone else is freaking out.
Rule #3. Lastly… whenever I'm tempted to engage with trolls and critics (how DARE anyone give me a bad review on Amazon!), I just remember my favorite quote: "Never wrestle with a pig in shit. You both get filthy, but the pig likes it."
Give the trolls in your life enough rope to hang themselves. When you're living a good life, doing the right thing as often as possible, don't get all hung up on what the critics and nay-sayers are demanding. Your fans, happy customers and reputation will balance things out.
Stay frosty,
John
P.S. Volume 2 of "The Entrepreneur's Guide To Getting Your Shit Together" is now available.
So if you haven't Volume 1 yet, it's time to catch up here.