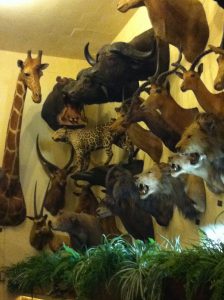 Monday, 2:26pm
Visalia, CA
"He wants to dream like a young man, with the wisdom of an old man. He wants his home and security. He wants to live like a sailor at sea." (Bob Seger, "Beautiful Loser") 
Howdy.
We're in for a treat today.
One of the best storytellers in copywriting — my longtime cohort Jimbo Curley — has sent us a riveting tale sure to send shivers up the spine of every entrepreneur alive…
… while simultaneously delivering one of the most primo lessons in getting after your own success. I laughed out loud several times — Jimmy has a real talent for doing that to readers.
Enjoy… and reap the profits of learning the lesson. Here's Jimbo:
Thanks for the intro John.
Something crossed my mind the other day — just after I ran over my neighbor's dog.
Here's what I was thinking: As an entrepreneur, a business manager, or just a plain working stiff, you may not be taking enough risks.
Or perhaps not the right kind of risks.
I'll tell you about poor Rex in a second. For now, fasten your seatbelt. You're in for a wild ride.
"Risk" is the base ingredient for success. It's the secret sauce to landing a spouse who's outta your league. The mechanism for pole vaulting over your competitors. It's how you'll win big, and make your nay-saying friends and family look like idiots for ever having doubted you.
I'm serious. Today I own and operate a couple companies that earn in the millions each year…
… but twenty-something years ago it wasn't like that. Back in the early 90s I was managing a near half-million dollar marketing budget for a hardware and contracting operation – at $28K a year. I figured I had a secure job, a good title, and would safely "ride my way up" the escalator of success while others risked their necks climbing up the rickety ladder.
Rookie.
I opened my eyes. The media reps who landed me as a client were wearing silk ties and gold watches. The guy running the crumby print shop I frequented was driving a new Beemer. The owners who employed me were living in obscene homes and enjoying three or four lavish vacations a year.
And yet there I sat for 8 to 12 hours a day at a particle-board desk. I ate a bag lunch and drove a 10-year old beater.
I wanted new stuff. I wanted lavish. I wanted obscene.
It began to sink in.
Achieving such noble and lofty goals in total safety was a delusion.
Simple math and ruthless honesty made it clear — I could NEVER get there "working my way up" from $28K a year.
In the "death zone" of Mount Everest climbers must use ropes and ladders to traverse a sheer 40-foot rock-face before they can reach the peak. It's called the Hillary Step. (It has nothing to do with Clinton, but Sir Edmund Hillary, the first nut-job ever to summit Everest and come back alive.)
One screw-up on the Hillary Step… one minor bobble… and you're dead meat. 
Yes, you CAN refuse that terrifying climb up the Hillary Step, but it means forfeiting your shot at basking on top the world with your pals, (who you'd promptly leave for dead if anything went wrong).
No risk, no reward. Simple.
You want to get your kid into private school and a decent college? You want that cozy beach house where your family can enjoy memorable summers? You want to travel the world and see the pyramids? You want to make sure your parents are comfortable and well-cared for in their old age?
These wants require resources – sometimes known as "money". Lots of it.
And without skills… a realistic game-plan… and some risk-taking to acquire said money, your insatiable "wants" amount to, (sadly), only impossible fantasies.
Like some teenage dream of playing lead-guitar in a world-famous rock band. Speaking of which: About six months ago I met Martin Pugh, a very English dude, at a local dinner party.
Ever hear of Martin? Neither had I. But it turned out to be a mind-blowing chance encounter. During our polite conversation, Martin happen to mention that in the 60s and 70s he played lead guitar in the rock bands Steamhammer and Armageddon.
Hmmm… wait a second… I HAD heard of them. The chat continued… and the plot thickened. Among his friends – guys he knew and had played with regularly — were members of the Rolling Stones, Led Zepplin and The Yardbirds.
What? In case you're missing it, his "mates" included such guitar gods as Jimmy Page, Ron Wood, and Eric Clapton. Martin once even jammed with, live and onstage, the legend himself… (wait for it)… Jimi freakin' Hendrix. 
So don't get me wrong. I am a big believer that — with ability and a willingness to "put yourself out there" — anything is possible.  Sky's the limit. Dreams happen.
Anyway, back to my rookie days.
It eventually sunk through my thick skull that a river of cash would not flow its way to my doorstep just because I really wanted it to. I had no rich uncles near death. No wealthy friends willing to support me. I didn't live near a casino or even know how to play craps.
So I had to figure something out. The clock was ticking and none of us has forever.
As you can guess, entrepreneurship was the only vehicle readily available that could possibly transport me to the kind of life I wanted for myself and my family. It's the same for you. Because any job that has you "working for the man" means you're actually riding piggy-back on risk takers.
The more you feel like dead-weight to them, the worse off it is for you. How "secure" is that?
I mean, who's really the bigger risk-taker here? In my $28K marketing director position I had many, many successes — but I could not easily account for them.
Yes, I worked hard producing TV, radio, newspaper, magazine, direct mail, and sales support materials — but it wasn't direct marketing, (a skill I learned later on, from Carlton, in a series of the greatest "eureka" moments of my life.) In other words, I couldn't prove how much money I had actually earned the company. This meant that even at a paltry $28K salary, I was still a liability to my employer because my salary was on the WRONG side of the accounting ledger.
I was in the "expense" column. Any downward trend in the business and the owners could simply scan down the expense report with a red Sharpie and ask: "Hmmm, do we really need this guy?"
That's not security.
And if you hold a private-sector job where you're unable to definitively prove, with real numbers, that you're worth more than your salary, then you too are secretly on that list.
Now, Bud was another story.  He was the hot-shot outside sales person. He was earning three times my salary. He was at home having fun in his new pool with his harem of whores while I was working late.
The owners loved Bud. His skills landed them whale-sized clients that brought in hundreds of thousands of dollars week.
The bastard would never have a red Sharpie hovering over his name because firing him would be like burning money. Bud was on the right side of the accounting ledger — in the "major fat asset" column. (For the record, Bud and I were actually good friends. I learned a ton about bare-knuckles salesmanship from him.)
So yes, I'm encouraging you to take a hard look at who's putting-up the money to pay your salary – with an honest evaluation of how they may view your "worth" on an accounting ledger.
Think about becoming an entrepreneur. If you're already there, consider pushing your skills and risk-taking abilities to the next level.
But before you do, let's dig a little deeper. Because not all risk-taking is created equal. So I've broken it down for you.
Here we go.
Risk Taking #1: The treacherous go-for-broke "Banzai" charge. 
And here's where I tell you the sad tale of Rex the wonder dog and how my neighbor Lou – Rex's owner – came to start calling my car "The Death Machine".
Rex loves to chase cars. Rex loves to chase MY car. Problem is, Rex hasn't a clue of what to do if he caught my car. It's the thrill of the chase. Makes him "feel alive".
If Rex had thumbs, he'd climb Everest and dance the Macarena on the Hillary Step.
So last month I'm driving to the market when Rex, being Rex, galloped full throttle across his yard and performed a perfectly executed vault – launching his muscular 80-pound bulk through space and time like a gymnast soaring off the parallel bars.
Slow motion. So gorgeous. Until of course he hit my front tire. Rex's behavior is what I call Banzai Risk Taking… … which includes such activities as Russian roulette, sharing needles with homeless strangers, and betting your house on a business "premonition" with little or no hard evidence that it will ever pay off.
Been there, done that. I used to race around on motorcycles without a helmet… fly an ultra-light (basically a flimsy kite with an engine)… and, in my very first entrepreneurial venture, risked my house on a "hunch". I had cleared-out my entire savings account and maxed out a $41,000 line of credit to finance a "custom motorcycle painting" instructional package.
I paid – upfront — for expensive 2-page long copy magazine ads in three major publications. When my worried wife expressed concern, I assured her in the strongest possible terms that I knew exactly what I was doing.
I didn't. And when the money was distributed and gone the full realization of what I had done hit me. I could lose my damn house. I shivered at the thought of explaining that little mishap as we packed our bags.
Then it happened. The magazine ads hit. On that day $12,300 shot through my merchant account and plopped into my bank account.
And it just kept coming.
By week's end, I paid off the loan.
By month's end, I purchased a new car and had a damn good start on a savings account that would eventually pay for the design and building of a new home.
I took a deep cleansing breath. I was on my way, at last.
But the approach I took on that initial project was the stuff of compulsive gamblers and adrenaline junkies. Perhaps similar to Rex's desire to "feel alive".
John Lennon was once asked: "What is life?" 
His answer: "Life is what's going on while you're thinking about something else."
You wanna snap out of the daydream? You wanna experience the full brunt of life in the here and now?
No problem. Just lose your footing on the Hillary Step. Fly an ultra-light at tree-top level in high winds. Or risk everything you own in the world on an unproven business hunch.
That'll wake you up… and fast. 
Sure, the rewards can be extravagant. But it is, (in the words of Lynyrd Skynyrd): "One hell of a price for you to get your kicks, hell yeah".
In retrospect, there were smarter ways I could have approached this.
Today, following two high-speed motorcycle crashes, I don't ride cycles anymore.
After a few near-misses with trees and high-voltage electrical wires, I don't fly ultra-lights either.
And I have no brilliant plans to climb into the death-zone of Everest.
Oh yeah… and I no longer risk every penny I've got on unproven "hunches".
Risk Taking #2: The ticklish "thin-ice" silly chance: This reminds me of the time Carlton and I were in a Reno casino. The scene played out something like this: "Hey, John, teach me how to play craps."
"Okay. How much you got in chips right now?"
"Two hundred."
"Good. There's no hand in action. Place a hundred on the pass line for the come-out."
"What?"
He rolled his eyes and pointed. "Put your chips there."
I plopped down a hundred on the pass line and, as the dice rolled and the fast-talking stickman shouted gibberish, Carlton expertly guided my odds bets, having me disperse the other hundred in additional wagers behind the pass line. It was an exciting blur of raucous activity…
… until quite suddenly the chips were scooped up and gone. John threw up his hands, "Well, that's it".
"That's what?"
"That's it. You lost your money. Fun, huh?" We looked at each other… and burst out laughing.
Look, nobody likes losing money. But for a couple hundred bucks I learned a thing or two about craps with one hell of story to boot.
Now if that money would have represented a huge percentage of my net worth or was the only cash I had on hand for Tiny Tim's lifesaving operation, then it would have fallen under the category of Bonzai Risk taking.
Okay… so what does this have to with entrepreneurship?
A lot. Because in direct marketing walking out on thin ice is absolutely necessary. Risking some time and money is the only way you'll know for certain where your hardcore buyers hang out and which sales pitch will work best.
Think of it like hunting for gold. No sane miner decides to "go for it" and throw all his manpower, equipment and resources into a piece of ground until he's completely confident that it will produce hefty profits. So he risks a much smaller amount, sinking strategically placed test holes.
If the holes don't produce, the miner has gained valuable insight at relatively low cost while moving on to new ground.
On the other hand, if the test drilling coughs-up magnetic black sand and gold flakes… well, the gloves come off and it's time to take things to the next level.
Risk Taking #3: The educated roll-out: This is the next level. The stuff of savvy entrepreneurs.
Once you've got a proven offer that converts and a damn good idea of exactly where your demographic congregates… it's time to open the flood gates.
I mean, if someone said he'd pay you two dollars for every dollar you handed him – how much money would give him? The short answer: Every penny you could manage. 
But play it smart. Start by giving him a dollar. He gives you back two. You now give him two dollars. And so on. It builds fast.
Same with purchasing traffic for a high-converting campaign. You can start small and roll the winnings back into the next round, (and skim a little something to wet your beak).
Of course this isn't risk free. Nothing is.
But today there's a little something called the "internet" to make testing fast and relatively cheap. There's mountains of traffic too — and MOST of it has nothing to do with Google. Once upon a time direct marketing involved testing ads and demographics inside expensive magazines and through rented direct mail lists. It meant placing a lot of money on the line for an extended period – up to a month or two at a time – before you could even determine results.
And here's where we flash back to my early days as an entrepreneur.  I had already worked with Carlton for almost 5 years when I decide to create an instructional product for hunters. It was well researched, well produced, and testing showed the pitch had serious promise.
So I rolled it out to a larger audience with an initial media buy of $20K, then rubbed my hands together and waited for my shopping cart and call center to explode.
Tick. Tick. Tick… tock.
I'm still waiting.
It was not to be. Despite having all my ducks in a row, the quest failed. I lost my time and a lot of the money I had invested.
And yet… here I am. Still alive.  Not only alive, but thriving.
My point is that, unlike plunging off the Hillary Step, failing during a roll-out rarely involves bouncing off rocks like a ragdoll for thousands of feet until your battered frozen body is wedged for eternity inside some lonely glacial crevasse.
No. It certainly feels like that for a while, but it's different.
It stings, but you survive – a little wiser – and get up… tweak your campaign (or turn to an entirely different product)… and try it again. And again. And again, until you get better. Until you get it right.
The key is to learn the craft and tolerate some risk. The trick is to nail down exactly WHO is purchasing your product (i.e. women, 35 to 45, with children and dry skin), split test your campaign until it's as good as you can get it.
Then split test some more until it becomes smokin'. As your profits increase, roll it out with bigger media buys directed at prospects precisely matching those who responded to your test offer.
Then continue to take "silly risks" on promising but untested traffic sources that have similar demographics.
It eventually becomes like a steamroller to your competitors.
And it just keeps going… and growing.
But at the core of it all is a sales funnelthat converts. Without that, forget it. You have nothing.
So the question is: How do you build a sales funnel that converts?
Well, again you must learn the craft. Study guys like Claude Hopkins, Dale Carnegie, Napoleon Hill and Robert Cialdini. Check out Carlton's "Kick Ass Copywriting Secrets"… his "Simple Writing System"… the Marketing Rebel resources… or his latest Kindle book "The Entrepreneur's Guide To Getting Your Shit Together". This kind of coaching is critical because knowing what makes your prospect tick is at the very heart of selling.
It's not about understanding technology… but rather understanding people.
How you handle the risk-taking is (of course) up to you. But the resources you'll need to build and hone your direct marketing skills are right at your fingertips.
There is no need to "go it alone". That's just plain foolish. And I assure you, you won't "figure it out" without help.
I get nothing for telling you this. No kickbacks. This is just my advice to you. Take it for what it's worth.
Because for me personally, without John's mentoring, it's likely I would still be sitting at a particle-board desk, dreaming of greater things without ever possessing the necessary skills to achieve them. Working with Carlton has been my chance to jam, live and onstage, with the legend himself. Word.
And Rex?
Well, I saw him just the other day. He was sitting in his yard with a goofy plastic "healing funnel" wrapped around his head. Lou had chained him down for his own protection, but as I drove by, Rex tugged and whined… … pleading for just one more shot at being smashed under the wheels of The Death Machine.
Some dogs never learn.
Thanks for letting me share this tale.
Jimmy Curley
P.S. Love to hear your take on this subject, down in the comments.
How has risk played a part (either as hero, villan or bystander) in your career so far?