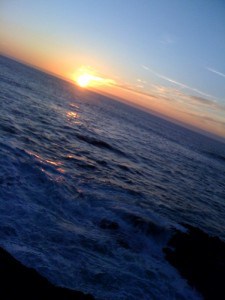 Tuesday, 2:47pm
Reno, NV
"Don't let me be misunderstood." (The Animals, #15 on Billboard, 1965)
Howdy…
I've resurrected another gem from the archives… just because it's so freakin' good. Many of the lessons I try to deliver in this blog need to be delivered over and over (the only guaranteed way to finally learn anything in life), and once I nail it, there's no sense rewriting it.
The clarity I try to achieve below is a solid step toward leading a more examined life… which all great marketers strive to do. There are stages to this if you've hit adulthood and continue to labor under false assumptions and bad belief systems. The worst is thinking that what you believe must be true, because you've believed it for so long.
This kind of circular cognitive dissonance can hold you up for decades (or even forever)… because our very human minds are hard-wired to listen to our intuition, no matter how often it's proven wrong or screws up our lives.
We're stubborn beasts. As a civilian, you just go enjoy your bad self with your silly notions and absurd assumptions. I'd prefer that you not vote, but it's a free country.
However, as a marketer who desires wealth and recognition and lasting success… you cannot rely on the flawed default settings in your brain. If you haven't been constantly giving yourself vicious Reality Checks over your career, you're risking being stuck in a non-productive zone where competitors will fly past you, and customers flee.
I, personally, am very hard on myself. Very, very hard.
My transformation into a real professional meant climbing out of a slacker lifestyle where I got away with laziness, unreliability, and a self-destructive refusal to change… into a new person who cleaned up the messes I made, took proactive steps to fix what was broken in my skill set and personality (so I never "vowed" to do better next time, but actually changed so I DID better), took responsibility and put my ass on the line to get things done, and force-fed discipline into my lazy habits.
It was tough, but required if I was gonna move up a few stages in my quality of life and self-respect and success.
And here's a veteran's tip on how to accomplish this yourself: You take it all one step at a time.
The problem with most self-help crap out there is that folks honestly believe that voicing a philosophy will trigger real change. So they visualize their new selves, and chant magic resolutions, and try to hook into some imaginary lifeline dangling from the universe that will do the transformation FOR them.
Not gonna happen. In my career, I witnessed amazing coincidences and lucky twists of fate that — in my lazier days — I would have assigned to mysterious forces. Things DO start happening, once you get moving.
But it's not magic — it's the natural result of taking action, goosing your network for opportunities, and being hyper-aware of what you bring to the table and how you might use that to break down doors.
Anyway, this post is just a small part of the larger battle to become more conscious, and more precise in the way you look at the world. Nevertheless, it's a huge step forward, and many later stages require this fundamental stuff.
So, enjoy:
As a lifelong wordsmith (that's "writer" to you), I long ago learned to respect language. It seemed a no-brainer to me. Language is our primary communication tool… and English just happens to be the most flexible and use-able one ever created. Unlike every other language out there, it inhales foreign worlds without problem, gives group-hugs to slang, and offers an amazing cornucopia of choices when you want to get your point across…
… just right. Blunt, nuanced or sneaky… English has produced the best patoi since our ancestors started grunting at each other. (French peoples, send me your hate.)
Sacre bleu.
Unfortunately, most of my fellow citizens have vocabularies that ceased growing when they were around 12.  (Newspapers write to a mostly-mythical 8th grade level… and prime time TV shows try to dumb it down even further.)
This can be fine… as long as communication still occurs.  (And I'm a fan of using fancy words only among folks who appreciate them.  Most of my writing, and especially all of my teaching materials, are carefully scrubbed of fifty-cent words… because I want to be understood.  Never use a ball-buster from the Thesaurus when a nice piece of street slang will do the same job, is my motto.)
The trouble is…
… the culture is still pretty much stuck on the 9th floor of the Tower of Babble…
… when it comes to being precise about important words.
I could write for days on this subject.
But I think these few examples, below, will do the job.
These are the words that I see causing the most trouble when I do private consultations.
I used to literally drop my jaw, stunned, when I realized that a client was merrily bustling down a dangerous path… believing he was on the road to happiness…
… when he was actually about to plunge head-first into a pit of misery.
All because he misunderstood a couple of important ideas, as expressed in words.
I see this a LOT.  So listen up:
1. Do not confuse ignorance… with naivete.
Rookie entrepreneurs… and veteran business owners who've strayed into mysterious new marketing territory… would do themselves a huge favor by realizing there are vast gaps in their knowledge base.
Just own up to being ignorant of how things get done…
… for now.
Ignorance is the absence of knowledge.  And it's totally okay to admit to yourself that you're a babe in the woods at this current stage you're in.
Your first job is to get a handle on what you don't yet know… that you need to know.
Then… go get it.  Fill your brain with the data, ideas, secrets, skills and direction necessary for you to succeed.
You're going to kiss some frogs along the way, so you need to dive in and start sorting it out.
Ignorance can be cured with info.  Just as fast as you can light up your brain nodules with data.
Naivete, though…
… is often a condition that needs bitter medicine to fix.
When I encounter a client who is naive… it means the right thing to do is not pile on more info…
… but rather to perform the most brutal Reality Check they can handle.
The ignoramus just lacks data.  Many will fight having that data absorbed into their system… cuz most folks are terrified of change (especially when it means altering your worldview).
But it can be done.  I was ignorant of pretty much everything about being a freelancer when I began my career.
But I knew I was ignorant… and I gobbled up knowledge like PacMan in an ongoing process of de-ignorizing my bad self (which is still going on today).
Naive people don't yet realize they are under-prepared and under-equipped to move forward in life.
And — worse part — they tend to aggressively resist being de-naived.  They blunder on, oblivious of their vulnerability to things like experience, savvy and skill in their competition.
So know where you're at on the scale.
If you don't know something, fine.  No shame in that.  Get hip, get educated, get mentored, master the needed skill-sets.
And if you've been sitting on what you hope is secret self-knowledge that you really don't understand squat about what you're doing…
… just get out of your own way.
Stop pretending.  Stop faking it.  Stop believing that good excuses can cover your act for an entire career.
The business world is like the jungle.  The predator doesn't give a rat's ass if you've got the vapors, or had a bad day, or just aren't good at some things (because you refuse to get better).
The excuse-model that maybe worked to get you through the miserable school system without consequence… doesn't do so well in the real world.
And it sucks to get eaten.
2. Don't confuse experience… with wisdom.
Took me a while to nail this concept.
Back when I was always the young punk at the table (yeah, that was me for most of my career), I knew I couldn't match clients for sheer years on the job.
And often, I just plain didn't know as much as they did.
So I sat on my ego… and went to school with every new consultation and meeting with a client.
Didn't take long before I'd had enough gigs under my belt to qualify for "mucho experience"…
… but more important, I kept focused on what I learned from each experience.
And that's when the big "a-Ha!" buzzer went off.
Experience does NOT automatically translate to wisdom.
You nearly always need experience before you attain wisdom, yes.  But it's not a guarantee.
In fact, over my career, I've always spent the first minutes of any consultation diving into the experience-wisdom correlation with new clients.
Their ego screams "wisdom".  But their actual savvy whispers "hasn't learned shit in all those years".
The smart ones remember why they went looking for a consultation in the first place, and we can get moving on solutions and fixes.
The dumb ones fight it.
3. Do not confuse ego… with self-awareness.
Ego is bullshit.  At most, it's a sense of being in the game, and keeping score (often in ways that no one else cares about).
Self-awareness must be earned.
And while most modern people can't entirely murder their ego… they can at least overwhelm it with self-awareness.  So when it flares up, or gets bruised, or starts interfering…
… you can just say "oh, hell, my ego's involved in this" and get over it.
Do you set goals?  If you set goals to satisfy your ego, your life will be miserly and grim.
The really good goals in life are always larger than "you".
Don't get confused about who's running the show.
4. Don't confuse expertise… with fast-talking charm.
I recently met a business owner who was extremely bright…
… when it came to delivering in his biz.
The marketing side?  Not so much.
In fact, as we chatted, he was almost giddy when he revealed he was about to solve all the horrific problems he was having making his online efforts work…
… because he had just paid a small fortune to hire a genius ad guy.
Who was this genius?
Why, the guy behind some of the most recognizable jingles in the history of television prime-time ads.
On Madison Avenue, this genius never has to buy a drink, cuz he's famous.
For jingles.
I almost choked when I found out the price tag of this jingler's services (which, I guessed correctly, were centered on bullshit "branding" nonsense that had zero chance of even causing a ripple online).
This problem — confusing charm with real expertise in what you need — is like a weed or rat problem in the entrepreneurial world.
People who can talk the talk… but can't walk the walk… are causing some serious financial damage out there.
It has ever been thus… until you get hip to how things really get done.
When money is on the line… especially your money (connected to the success or failure of your biz)…
… screw charm.
Some (actually, maybe most) of the best marketing and business minds I've ever met…
… are charm-challenged, grizzled, anti-social quasi-nut jobs.
You don't have to like the dude who rescues your ass.
You just gotta learn to tell the difference between him (the real expert), and the dazzling sociopath pretending to be an expert so he can gut your wallet.
Let your trust be earned, not charmed into submission.
Finally…
5. Don't confuse asshole customers… with righteously angry folks who have a legitimate complaint.
You blackball the first.
But you embrace the second.  As tough as it can be to hear someone point out the flaws, foibles and blunders in your biz…
… you cannot grow without that kind of reality check.
Getting good advice, insight and direction is almost never pretty.
This is business, folks.  Not junior high.
6. And… don't confuse real humor… with puns.
That's just my own personal crusade.
Man, I hate puns.
Brrr.  Horrible little things…
Okay, that's it for this post.
As a funny side note… I took a break to go watch Conan… and there was PeeWee Herman, doing a hilariously creepy bit on…
… language.
The entire line-up for the show was dripping with pathos.  PeeWee's career blew up after a peep show bust in the 90s.  Robin Williams has been vilified, gone through public addiction purging, and worse through his equally long career.  Barry Manilow… well, he had to be Barry Manilow all these years.
Butt of jokes and derision.  You don't really laugh all the way to the bank in those situations, you know.  It hurts to stick your head above the fray and dare to stand out… and get kicked.
Don't get me started on critics.  Miserable little twerps…
Anyway, have a good weekend.
And if you're feeling lucky…
… and ESPECIALLY if you love this kind of veteran, hyper-experiential action-oriented knowledge, advice and tactics…
… see if there's a seat left at the Action Seminar next week down in San Diego (March 22-24):
Unbelievable line-up of Marketing Royalty will be there.  Spectacular networking, and a chance to see history made… as we renovate the tattered state of the Live Marketing Seminar with real audience interaction (and zero hard sell pitching).
Make 2013 your best year ever… by getting some direct, specific and spot-on advice and ideas from the best in the biz. You may even score a live Hot Seat consultation, on stage, from me and the other experts and Big Dog marketers in attendance.
And… BIG POINT: This may be the last Action Seminar ever. Certainly one of the last opportunities to see me in person at this kind of unique "get things done" event, and get the full impact of what my network of pals and nutcase colleagues can do for your biz and life. I'm semi-retired these days, which of course means that full-on retirement can't be far behind.
So, if you crave the kind of no-bullshit, old-school, reality-based advice I shovel out, and you want to see what it's like to hang out with other old-school veterans like me… you HAVE to make the effort to check out the Action Seminar. And get over your bad self and your oh-so-crowded schedule and every other lame-ass excuse you can come up with for not coming.
If you're serious about your future, you suck it up and do what needs to be done so you CAN come. And then you get on a plane and you arrive, and you absorb the whole thrilling spectacle that is a no-pitching Action Seminar.
Just check it out, first. See what's up, see why it's getting so much buzz, see why others will tell you it changed their lives:
See what's up with the Action Seminar.
There's a lot of valuable free info on that site, too.
Okay, I'm done.
Stay frosty,
John
P.S. Do not… I repeat… do NOT leave any puns in the comments section here.
I'm serious.
No puns.
Unless they're really good…