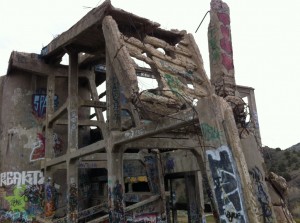 Wednesday, 12:53pm
Reno, NV
"I'm busy 24 hours a day, I fix broken hearts, I know that I truly can…" (Del Shannon, "Handyman")
Howdy.
Today, I want to share with y'all a simple pro-level tactic that just might change your career path forever… if, like most entrepreneurs out there, you're laboring under a huge and common misunderstanding of how things work in the real world.
Here's the problem: Most folks only see the surface of the culture, and seldom get to peek behind the curtain to see the infrastructure that supports everything.
Now, if you're stumbling through life as a slacker or a follower… just bobbing to and fro like flotsam… then learning how stuff gets created isn't important.
But entrepreneurs do not have that luxury. Once you take responsibility for the survival of a business, you better get hip to the Big Picture.
This means understanding the process of arriving at a finished product. Which requires rolling up your sleeves and getting dirty (or virtually dirty, in the digital world).
Here's the quick tale of how I was introduced to this realization: Back in school, I was that doodling kid who just kept getting better at it… until one day the journalism teacher found one of the endless homemade comic books I was pumping out, and insisted I create a weekly cartoon for the high school newspaper.
Now, I loved the comics page in the local rag (the LA Times). The idea of drawing a comic strip of my own, however, was terrifying. I didn't have a clue how they were actually made. Up to that point, I drew only in pencil, on big sheets of scrap paper, with no limits to sizing or length. Now, suddenly, I had to work in ink, inside a 3-inch by 4-column format.
And meet a deadline.
In retrospect, I should have just hit up the art teacher for tips on producing a cartoon in a publication. Or called up the local "real" newspaper and ask a production artist how it's done.
But I had never had to research anything before. Like most American kids, I had spent my youth tearing things apart, not building them. I'd never asked anyone how something was done, ever. I just figured it all out for myself, in my own idiosyncratic way, thinking that's how it had to happen. You "should" be able to figure everything out.
It's a flaw in our brains.
Back then, the hard part of doing a weekly cartoon was coming up with jokes that fit into a four-panel format. But what consumed the most time was producing the final strip. I bought a double-aught nib in a wooden holder at the crafts store, plus a big bottle of India ink. And I drew veeeeeeery carefully…
… because I believed that published cartoons were drawn that way. You know, that Charles Schultz just sat down and inked out a Peanuts strip from left to right.
And if I made a mistake…
… I was screwed. Had to start over on a fresh sheet of paper.
Now, I'm a slow learner. Really slow. I drew freehand for two years in high school, and then for another two years in college (when the editor of the paper discovered I could draw and tricked me into doing a Zap Comix-like strip in the UC Davis Cal Aggie).
It was painful to work in ink like that, knowing any mistake meant starting over.
And then I finally took a class in commercial art.
D'oh! I learned that (a) pro cartoonists and illustrators worked in "blue" pencil first (which doesn't show up when the art is photographed for final printing)… so they could be as messy as they wanted as they built up the art to final form and inked it…
… and (b) they worked in a very large format, using many different sizes of mechanical pens, and shrunk the art to the final size photographically only after they were done (which also shrinks small mistakes and makes for a very "clean" look)…
… while (c) using all kinds of white paint, cut-out slivers of masking tape, and pasted-on corrections in the process… so the actual art (before it was photographed) looked like a triage patient from a plane crash. And yet NONE of the fixes, additions, corrections and sloppy blue-line noodling showed up when the cartoon was printed.
This just blew my mind.
All of this equipment and know-how was readily available at the newspapers I'd worked for. I'd just never asked. The editors relied on blue pencils and stet cameras and paste-up magic… every page was a mess as it headed to final art.
This simple discovery caused something critical to snap in my brain.
I was finally FREED from the shackles of self-imposed perfectionism. I could draw as loosely as I wanted to, populate or depopulate the art with characters on a whim, and I never had to start over from scratch no matter how ugly my mistakes were. I could fix anything.
This was a freaking revelation that helped me transform myself into a high-level freelance copywriter almost immediately after launching my career.
How? By applying the same tactic of "building up" my ads, rather than trying to create something perfect on the first draft.
The majority of entrepreneurs I counsel believe, at first, that when writing their own advertising they need to start with the headline and progress logically through the copy to the final pitch.
I know where that belief comes from, too. The ads they see in the wild are finished products. All the work that went into creating that finished product is invisible. There's no "infrastructure" to an ad, no curtain to peek behind once it's posted or printed.
So, for Lesson One, I make it clear that all top writers build up ads, rather than just write them out in a single burst of inspiration.
For example: I almost NEVER write the headline first. I write out the BULLETS first… because good bullets fuse the features and benefits of a product, and that gives you deeper insight to what's good about the thing and how it will affect your prospect.
And… I write pages and pages of bullets. Most of them will never find their way into the final ad. I write them out sloppily, then go back and rewrite them. And rewrite them again a day later. And toss some, bring in new ones, merge and split others. Again and again and again, right up until the deadline.
When I feel ready to write a headline… because after all those bullets, I'm now totally conversant with the inner workings of the gig (both technically and emotionally)… I start slamming a bunch out, just ripping through basic "how to" models to get the juices flowing. (I always recommend you start with a "how to" type of headline, and just write out what you're offering to the reader.)
It is not unusual for me to write up 50 or more different angles of headlines, and massage them all through multiple drafts. Then, set the mess aside. Don't choose one yet.
Instead, while getting "cold" on the heads (by not thinking about them for a day or two) I'll either work on the opening paragraph (very crucial, because you're doing the hard work of dragging your reader into your copy) or the final "here's what you need to do now" part of the pitch.
The point is this: Early drafts are a mishmash of sections, in various states of being finished, over a period of time… and to the uninitiated eye, the whole thing looks like a house torn apart before being remodeled. Total chaos.
The "art" of creating a finished ad is in the final stages where everything is dovetailed together. And rewritten to be a smooth, greased ride for the prospect (who, when you've done it right, will climb onboard at the headline and not be able to leave the ad until he arrives, breathless and shaking with desire, at the order form).
Just get over your bad self. No one who writes ads for a living starts with the headline and just writes it all down from there, perfect and ready to go. And if the pro's don't do it that way, you shouldn't either.
Perfectionism sucks. The finished product may approach a sort of awesomeness, but it's almost never "perfect". Even top Hollywood directors known for producing lush, slick, technically-seamless movies (Ridley Scott and James Cameron come to mind) GET to that final point through years of prep and detail and misfires.
The key to good marketing is understanding how some parts are cobbled together, while other parts are burnished to a craftsman's shine over time… and learning to follow the same guidelines when doing it yourself.
Realizing that final products are often attained by knowing how to FIX mistakes made me fearless about being creative. And about being productive — I was freed from the sense that I had to know precisely what I was doing or where I was going before I began any project…
… and, instead, I just got busy immediately and never hesitated to make mistakes or wander off into dark alleys (metaphorically speaking, of course). Because going from inception to finished product is NEVER a straight, clean line.
Go get messy.
Stay frosty,
John
P.S. The comments section is open, if you want to share your own tale of discovery related to becoming successful.
And the best thing I hear from entrepreneurs is when some piece of advice finally rams home, and that "a-HA!" moment happens. I know the next time I hear from them, they'll be wearing success like a pro…
(Photo credit: Cindy Shine)