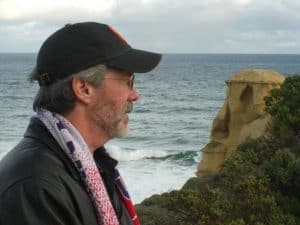 Wednesday, 12:36pm
Reno, NV
"Sittin' on the dock of the bay, watchin' the tide roll away…" (Otis Redding)
Howdy…
Mark, a lifelong pal of mine, lived with a girlfriend many years ago who taught us both a very devastating lesson.
At the time, Mark and I were hard-core slackers — lamely cruising through our late twenties, we took jobs without ambition to pay the rent and keep the fridge stocked with beer, and were pretty much maintaining the same lifestyles we'd had in college.
Care-free losers, if you need a label.
Susie, on the other hand, was roiling with ambition. Had a good job, with a plan to either rise quickly in that biz or seek better positions elsewhere. Her friends talked about the future a lot, and openly competed with each other over acquisitions like new cars, new clothes, expensive wine and all the grown-up Yuppie shit that sent shivers down my spine.
Cuz I was still going to clubs to see bands (and who can blame me, since it was that primo era when the Pretenders, the Police, Elvis Costello, the Jam, and Talking Heads were on their first west-coast tours)… still driving a 10-year-old decrepit Datsun truck… still dressing like I'd been shopping drunk at the Goodwill store… and still loathing the idea of "growing up".
I knew something was wrong, of course. I was just floating on the surface of life, at the mercy of other people's ambitions and without any goals or dreams or sense of purpose.
And I absorbed a lot of harsh criticism, both from others and from myself, for not doing anything constructive with my life.
However, looking back, I see things very differently now.
Yes, I was a slacker. But, while I was admittedly not doing a single goddamned thing to prepare myself for living out the American "dream" (house, career, family, etc)…
… I was, nevertheless, honing a particular strange skill that has served me extremely well over the ensuing years.
I was becoming an expert at ruminating. Pondering shit. Noodling over difficult thoughts.
I wasn't smarter than the evil Yuppies around me. Far from it.
And, eventually, I too would learn to lust after material things that made my heart happy.
Just not the same things those smug elitists lusted after.
Because what I craved most of all… was time.
Time to read more books, listen to more music, indulge in more pleasure…
… and time to stare at the wall and go deep inside my own head. Ruminating on shit.
Silly me.
Here's the cruel lesson Susie delivered: One evening, she admitted she despised me…
… because I helped Mark feel like he wasn't alone with his own wall-staring.
And it was high time that he moved beyond that "thinking crap", and got busy building a life worthy of her Yupped-out aspirations.
I was stunned. Not because she wanted to morph my pal into her own Ken doll — that goal of hers had been obvious for a long time.
No. I was stunned… because I truly believed that thinking deeply about things… even random things like how Power Pop had sprung from the ashes of punk rock, and how it all connected seamlessly back to mid-60s garage bands and the Beatnik philosophies that survived the hippie holocaust and…
Okay, you get the idea. I also thought a lot about "what's it all mean" mind-expansion stuff, and where American literature was headed and how the endless Cold War was affecting local politics, and all the blossoming parallels between the post-WWI nihilistic Da-Da movement and the impending technology revolution (that would not be televised) and on and on.
So, yeah, I was a lazy, good-for-nothing slacker, restlessly pillaging the edges of the culture and irritating the Yuppies…
… but really? "Thinking" was now a bad thing?
It was with Susie. She was whip-smart, and full of energy and life-force…
… but for her (and her ilk), the definition of "success" had nothing to do with having more "time" to spend staring at walls, ruminating.
I'd just assumed that was everybody's wild-ass dream.
And it scared the shit out of me to abruptly realize that most of the folks around me considered it a profound waste of time. And even highly distasteful, cuz it ruined the vibe when they wanted to discuss wine or stock market tips or country club memberships.
Yep. I was the shallow one.
How dare I suggest that living life using only the outer edges of your cerebral cortex was a hollow way to exist.
Older, maybe wiser, certainly more experienced now…
… I still get royally pissed-off remembering how much Susie's "set me straight" lecture harshed my mellow for the next few years.
Of course, I also have to thank her, from the bottom of my heart, for shaking me up like that.
Because I struggled with that potential lesson for a very long time. Was ruminating on stuff really a waste for anyone wanting to get ahead? Was it really better to just get jiggy with the accepted lifestyle and Zeitgeist of the time… which, heading into the Go-Go Eighties, was quickly evolving into Gordon Gecko's "greed is good" ethos.
I liked staring at the wall (or at the waves, or the clouds, or a blank piece of paper), disappearing into my head and… ruminating on things.
And being able to do more of it seemed an excellent element of a "successful" life. You know, maybe like what Aristotle (or was it Socrates) said about "the examined life."
Today, I'm more convinced than ever that it is THE main reason to succeed.
I never saw Susie again (she soon left Mark for a hedge fund manager), but I did eventually became a hard-core capitalist-oriented entrepreneur, got my shit together, and started being aggressively proactive about setting and achieving goals. A true American rags-to-riches tale, and I'm proud of it.
But I never had the notion that simply "being" successful was part of a successful life.
In my view, you don't need money to be successful. Money just solves the problems that not having money creates… so having "enough" money, in this culture, can help you stay clear of the time-consuming bullshit of scrambling to keep a roof over your head and food in your gut.
Massive wealth has the capacity to really screw you up. Of course, it's more fun to discover that on your own, rather than taking anyone else's word for it…
… but it's still true.
The reason for this is kinda mystical, but easy to fathom: If you aren't clear on WHY you want to get rich…
… then, once you get there, you're gonna be one lost little puppy.
It's like mobilizing your life to move somewhere you think will make you happy. You can do it, and you can wind up in a gorgeous penthouse in the best part of town… but if your next thought is "now what?", then you may be left wondering what it all means. With no answer forthcoming.
The reason I connected so easily with early mentors like Gary Halbert was because we shared a fundamental desire: We loved to work hard, and we loved to be rewarded for that hard work with piles of moolah…
… however, the REAL reward was always the sheer luxury of "buying time". Using money to hire assistants, job-out the grunt work, grease palms, skip lines and generally shortcut our way around the time-sucking parts of life.
Not so we'd have more time to work. No way.
So we'd have more time to indulge in the one thing a busy, harried life refuses to allow: Rumination.
There are tons of books and coaching programs and seminars available that claim to make planning out your life easy. They'll help you with the "here's what I want to do", and "here's how I can get that done" processes…
… but every single one I've seen is woefully deficient in helping you understand "WHY I want to do that in the first place."
The "why's" of life are mostly ignored. It's taken for granted that big houses, fancy sports cars, better looking spouses, bigger/better/nicer/more expensive everything is of COURSE the preferred goal.
And maybe that's true for you.
I will tell you it is NOT true for the majority of friends and colleagues I'm closest to. I'm closest to them because we are simpatico about what really matters in life.
And you don't automatically figure out what matters, for you…
… unless you spend some serious time thinking about it. Pondering. Brooding. Daydreaming. Cogitating.
Ruminating.
Staring at the wall and diving into the cerebral gray matter.
Halbert was a great ruminator. I knew I'd found a lasting friend when we first took a long drive together, and after talking for a while, we both just got quiet and thought about things. Total silence in the car, as I drove us around Los Angeles and up the coast a bit.
And when we started talking again, it was rife with substance.
One of my pet peeves is meeting people who lived through something exciting…
… and don't have a good story to tell about it.
They'll grin and say "you had to be there", because it was all so experiential and amazing and kinesthetic.
And I say "Bullshit". I lived through similar adventures, and I can burn your ears with detailed stories about it… stories that have a point, that are interesting and thought-provoking and give the listener an almost visceral sense of what it was like.
But you can't build these kinds of stories without thinking about it first. Without sitting back, going over the facts and emotions and unknown pieces, and finding the theme and plot and punch line. It doesn't happen automatically, just because you were "there".
Sitting back in a comfy chair — well-fed, content, undisturbed and undistracted — and letting your mind wander and explore and organize your thoughts, experiences and dreams…
… is, for me, a wondrous thing.
For the most part, our ancestors had few such pleasures, always needing to tend the fire, hunt for food, repair essentials, repel danger, and stay alert and focused for as long as possible before dropping into an exhausted slumber.
Success can buy you the time, free of want or disruption.
Don't have anything to ruminate about?
Dude, you're living through the most awesome times humans have ever encountered. There are endless options for adventure and fulfillment and legacy…
… and really freakin' easy ways to attain whatever you desire, once you get your shit together.
You can set, plan for, and attain goals that your ancestors couldn't even conceive of.
You can get what you want.
The thing is…
… WHY do you want it?
Refusing to consider this is a recipe for disaster. Wealth, fame and acquisitions can kill you just as quickly as saber-tooth tigers, Viking raids and a rumble for the crown.
Getting something doesn't mean you'll know what to do with it when you have it.
This all takes rumination.
Think about it.
Stay frosty,
John