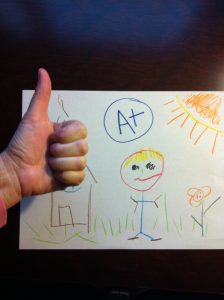 Monday, 3:32pm
Visalia, CA
"Only your real friends will tell you when your face is dirty." (Sicilian proverb)
Howdy…
I'm handing the blog over to our good buddy Jimbo Curley again this week.  He's done several guest posts, all hilarious, all excellent insight and info for marketers, writers and anyone in biz.
Jim and I go back a looooooooong time.  And my favorite story of how we became brawling colleagues is included here — this tale sends grown men into gasping fits of laughter whenever Jimbo re-tells it in the bar (where, during seminars, all the REAL networking and professional bonding takes place).  Last week, it was the Phoenix Hilton, for Joe Polish's and Dean Jackson's shockingly-good "I Love Marketing" event.
So this is fresh stuff.
Jim's the real thing.  A top, consistently smokin' hot copywriter and a keen observer of human behavior (and buying psychology).  He's an original teacher in the Simple Writing System, and one of the very few writers I've personally asked to write FOR me.
This post is must-reading for anyone wondering how their latest and greatest ad is gonna do in the real world.
Warning: Do NOT drink coffee while reading this.  Or you'll snort it through your nose during the funny parts.  Which is funny in itself, the image of hundreds of readers all over the globe spitting up coffee at their desks at the same time, courtesy of a master storyteller.
Okay, you've been warned.
Here's Jimbo:
Thanks for the intro John.
I'll dive right in.
Today I want to talk about a Street-Marketing lesson I call "How to take it in the shorts… and love it".
It's about how to get qualified critiques for your writing.
First, I'll hit you with the big setup statement.
Here it is: Writers do not work in teams.
Stay with me on this.
Because while you can divvy up the many tasks necessary for creating a new product… building a house… or robbing a bank…
… you CAN'T do that with writing good copy.
Yes, it's true that writers often spend time collaborating with dubious friends in coffee shops and bars…
… throwing back shots, playing grab-ass, expressing deep and passionate opinions about things they'd LIKE to write about…
… but let's face it, THAT is not writing.
That is a little something known as "fun".
Writing, on the other hand — the actual process of putting words onto a page — is work…
… done by ONE person…
… alone…
… inside his or her own head.
Ernest Hemingway did not whip off chapters while harpooning whales off Nantucket Island or slugging down Orujo with his buddies at a Spanish bullfight.
No. He did it like the rest of us mortals have to…
…in front of a keyboard or putting pen to paper… pounding out copy…
…alone… alone… alone.
Take a moment and allow that idea to settle-in.
It's important, because the solitaire nature of writing creates a unique problem — especially for the new writer.
It's something I call the "Blind Spot" effect — that strange phenomena that blocks the writer from actually seeing his or her own work.
It's kinda like gazing into mirror. While you may be looking at the exact same face that everyone else does…
… you somehow just don't SEE your face. You know exactly what everyone else looks like, but you don't know what YOU look like… until other people clue you in.
Weird, huh?
It's like Kent Jankowski… a silly, clumsy, likable kid that I knew from Catholic grade school in Wisconsin.
When he wasn't getting slapped around by the nuns, he was busy tripping over his own shoelaces during basketball practice.
Well, in junior-high something wonderful happened to Kent.
High levels of testosterone and good genes transformed his oversized bulbous head from a featureless ball of silly-putty…
… into a perfectly-proportioned chiseled block of marble.
He quite suddenly became a handsome specimen of young manhood, complete with beard stubble and — cue audible gasp from his longtime pals — flocks of lovely young ladies cooing after him.
As he strolled by me one day with the gorgeous Jan Flowers hooked on his arm, a giddy Jankowski leaned toward me and whispered…
"Curley… check it out… Jan Flowers!  Vroom-vroom…"
It was good to see that goofy kid still existed just below the surface.
Anyway… my point is that Jankowski discovered he was a hot commodity not because he was able to judge his own looks in the mirror.
Nope. It was because young women were telling him with words and actions.
This is a little something called "feedback".
And it's exactly the same with your writing.
Only the most accomplished and experienced writers can even begin to truly "see" and judge their own work.
I've been a working writer for over 25 years and STILL have trouble with blind spots… and absolutely depend on review and feedback.
Problem is, most writers have no clue on WHO to turn to for this kind of critique work.
Okay, here's a quick story that'll spell out the FOUR types of feedback available to you.
I'll keep it brief.  When I was about 10 years old, I spent an afternoon in my room sketching out a pencil drawing of a horse.  (Drawing is a lot like writing… a solitary activity fraught with creative blindspots).
And the masterpiece I created was so amazing… and so near to touching the face of genius itself… that I simply HAD to show it around to various friends and family members.
What happened next taught me a valuable lesson on differentiating between the various kinds of criticism.
I won't waste your time with all the details, but generally, the feedback I received fell into these categories:
1. Mom. She told me my artwork was "wonderful", thus confirming everything I already suspected about my killer horse-drawing skills.
2. The older neighbor kid. He said the drawing was "stupid" and that I was wasting my time because I was stupid too.
3. My favorite uncle. He told me that he very much liked the "doggie" that I drew…
4. The big brother. He pointed out that the horse's legs were drawn way too short, thus making it look like a mutant dog.
In general, those are the four types of criticism that you will face too. Let's cover each of them in a little more detail.
1. First, mom.
Her response was predictable… to lavish praise on me no matter what.  I could've drawn a picture of our house burning to the ground with my siblings hanging lifeless from the windows and her response would have been "very nice. Keep up the good work."
Yes, it's comforting to know that people love you enough to lie to your face under any circumstances.
Serial killers have mom's who still love and support them, ("He had nothing to do with those 12 dead people in his basement…").
But you simply can't trust the "mom's" in your life for honest feedback and constructive criticism. Getting a pat on the back for lousy work will NOT help you improve.
2. The older neighbor kid — or what I call the "Eddie Haskell" critic — gets his kicks out of mocking others. He does it for various reasons — jealously, pettiness, envy, sadism, whatever. Who knows.
This type of critic is usually interested in making sure that you don't make him look bad, and he's quite prepared to throw a wrench into your gears to stop that from happening.
Learn to recognize these people (it isn't hard), don't solicit their opinion, and simply ignore their criticisms.  (Side note from John: The business world is crammed with Eddie Haskell's like this, folks.  Never, ever, ever underestimate the potential level of jealousy, pettiness, envy and outright cruel sadism undergirding opinions you get from others.)
3. Next… the good-natured uncle, or what I call "from the mouths of babes". This can actually be quite useful feedback. In fact, if you're like most new writers, this is probably the only useful kind of critique available to you.
It's "from the hip" comments that can pull back the curtain and shed some light on your blind spots.
For example, a few years back, I was raking leaves on a cold and windy autumn day. After a couple hours I finished up, bagged-up the leaf piles, and returned into the house.
As I removed my shoes, my 4-year-old grandson looked up at me with a puzzled expression and said:  "Grandpa… you look like a clown."
I was shocked.  A clown? What the…
I knew the boy couldn't be openly insulting me… for Pete's sake, he was 4 years old.
I glance into the hallway in the mirror and — sure enough — my small tan beanie-hat, windblown hair, and red nose made it look like I was ready to pile out of a miniature car with 35 other friends.
For a writer, this kind of honest feedback can be pure gold.
Because when well-intentioned people inadvertently blurt out untrammeled insights — it can provide you quick inroads to trouble areas of your work.
I mean, if a favorite uncle thought my horse was a dog… or an innocent child said I looked like a clown… well, it makes no sense to argue with that kind of insight. ("Damn you, Uncle, that's a horse not a dog…").
Instead, set aside your ego and USE the feedback.  This is where the cool, ego-less attitude of the real professional comes in.
In direct response writing, especially, you can glean stunningly-useful information this way.
For example: I often plop down my copy in front of people I consider to be a perfect prospect for the product I'm writing about.
I KNOW I have a winner when they ask if they too can buy the product.
In one instance my unsuspecting subject asked how the client "could afford to give away so many free bonuses". I knew right then and there that at least THAT part of the ad copy was effective.
But here's the thing: You should not DEPEND on this kind of "from the mouths of babes" feedback. It's hit or miss and is almost never followed up with concrete advice.
Which brings me to the fourth kind of critic:
4. The older brother… or what I call "The Mentor".
Okay… let's be clear about something. When it comes to direct sales copywriting, there's usually serious money on the line…
… building websites, PPC campaigns, banner ads, shopping carts, hosting, not to mention the hard costs of producing the product itself (including paying the writer, if you're using a hired gun).
Which means there's a mountain of pressure on the writer. The ad must perform.
Split testing and continual tweaking will later on help direct and focus the pitch, yes. Wonderful stuff, testing.
However… for the original out-of-the-chute version, you've got to start somewhere. You need the raw first effort, to be able to test or tweak.
Which, for the pro writer… means you're coming up with your best initial "shot in the dark" control piece.
And, with so much on the line… and with you as the only one critiquing the writing at this point… means you need an outside opinion on your work.
Your top-choice option is of course to seek out expert advice from someone who understands the sales process… and can give you specific constructive criticism.
Like my older brother, a self-professed artist, who pointed out the horse's legs were too short.
THAT is specific constructive criticism.
Or John Carlton.
Some 15 years ago — when we first met — John had me rip-up an ad that I had worked on for over four days.
Our telephone conversation went something like this:
"Hi John. Did you get the ad I faxed you?"
"Yes Jim, I got it. Could you please print it off while we're on the phone here?"
"I've got it open on my computer, John. I'm looking at the ad right now."
"Good.  Print it off anyway."
"Uh, John… I could make any edits right here on the computer."
"No. Print it."
"Okay… one second."  Sound of printer clanking away.
"You have it printed yet?"
"Yes, John, I got it."
"Are you holding in your hands?"
"Yes, John. I've got it in my hand right now."
"Good. Now tear the piece of shit up."
"What?"
"You heard me. I said tear it up."
"(sigh) Uh… okay John, I get it. It's not very good…"
"No-no-no. Jimbo… you're still not hearing me. Listen very carefully. I want you to set down the phone, hold that copy up to the receiver, and tear it up. I want to HEAR you tearing it up. I would also ask you to burn it, but I'm afraid you'd probably torch your whole damn office in the process."
I did exactly what he demanded and tore it to shreds.
After that, John started improvising a sales message straight off the top of his head which was a hundred times better than what I had worked on for four long days.
Over the next months John continued to provide me deep insights and feedback on everything I wrote.
He taught me the advanced 17-point layout of a sales message… tricks to overcoming sales-killing objections… how to drive home the most important selling points… super-persuasive bullet-writing tips… how to establish proper voice and cadence… and on and on.
Thus began my road to fortune and fame. Writing sales copy, I learned, is a very specific and delicate process that would NOT come to me in my sleep.
I needed to learn it through coaching and mentoring.
John's become a lot nicer in his old age. But it was my willingness to accept tough constructive criticism that ultimately allowed me to move forward.  (John used to be oh-so-proud of occasionally making clients cry during his "tough love" consultations… and it's hilarious to see some of those clients brag about it later, wearing their tears like badges. "Carlton made me cry once.  Thank God I had the sense to get past the pain of that reality check, and implement what he was telling me…"  He's not a mean guy — in fact, he's way too generous with his advice and help — but he will not waste time soothing anyone's ego when money's on the line, or the future of a business venture.  So, while he's mellowed somewhat, he'll still kick your freakin' butt when you deserve it.)
I now make a very comfortable living from the skills he taught me. You can too.
It's like something I read from screen writing expert Syd Fields.  He pointed out that there was an extreme SHORTAGE of screenwriters in Hollywood.
What? Shortage of screenwriters in Hollywood? Heck, didn't every waitress and delivery boy in LA have a tattered script tucked away in their hip pocket ready to whip-out at a moment's notice?
Yes, Syd acknowledged that WAS the case.
But his point was this: There are very few QUALIFIED screen writers… people who know the craft, understand how to tell a story… and are capable of formatting a script so that a producer can use it as a blueprint to actually MAKE a movie.
It's the same with writing effective sales message.
There is an extreme SHORTAGE of good direct response writers.
Which means you and other copywriters are now faced with enormous opportunity.
And there's something else working to your advantage too:  Today, almost all online markets are extremely vulnerable.
It's true. Prove it to yourself. Take 20 minutes and cruise the internet. The place is a direct marketer's wet-dream… and yet it's top-heavy with poor or non-existent sales copy.
Which means one well-written sales campaign could easily high-jack and dominate any one of these markets.
This is once-in-a-lifetime stuff… like strolling the gold fields of California in 1848 deciding which one you'll tap into.
The downside: History has shown that gaps like this fill up fast. But right now, as it sits, anyone possessing even crude skills to create effective sales copy can crush the competition for their own product…
… or for the products of countless fumbling industries.
But it all hinges on your willingness to set aside the ego and accept some simple construction feedback and coaching advice…
… from someone other than your mom.
Fortune awaits you… but it won't wait forever.
For better marketing,
Jimmy Curley
P.S. John here again.
Did you spit up coffee?
I've seen a lot of people snort stuff out through their nose upon hearing that "Now, tear it up" tale for the first time.  And it's all true.  (Also true: I've mellowed.  A bit.)
Now…
… if you, too, want to learn all the details (and inside sneaky shortcuts) to writing sales message at the same scary level that respected experts like Jimbo (and all the other writers I've helped) now regularly perform at…
… then get your butt over to the Simple Writing System right now.
Just go here:
Finally learn the pro-level secrets of writing sales copy… fast, simple and easy.
Just check it out, okay?  See what you've been missing.
P.P.S. Also, if you want to see what kind of Tough Love gets ladled out during a standard phone consultation with me, just pop up to the Consulting tab up at the top of this page, and follow the simple instructions for contacting my assistant Diane.