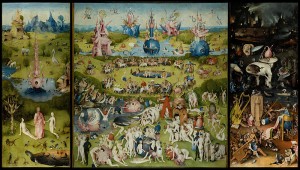 Wednesday, 8:47pm
Reno, NV
"Et tu, Brutus?" (Caesar, goin' down)
Howdy…
Let's have a nice chat about betrayal.
Not the big kind, like Shakespeare grooved on (with people dropping like flies, slain by their best pals)…
… but rather the small kind that happens way too often in business.
As in, between you and your colleagues.
Here's what happened to spur this line of thought: I was just in Austin (Republic of Texas) to speak at an event packed with marketers.
Now, a lot of things happened while I was down there… including a few stories full of intrigue and dramatic plot twists…
… but one little thing happened that could easily harbor the most serious consequences for anyone trying to learn something about being a savvy, successful biz owner.
Let me set the story up for you: Often, when I speak to new audiences, I like to cajole and browbeat the crowd as I put them through some exercises.
It's all in good fun, and it's a rare marketer who doesn't appreciate this kind of old-school learning tactic — essentially School O' Hard Knocks training, where you're pushed out of your comfort zone, which wakes up your brain and makes the exercises memorable.
It's really the only way to learn and have it stick that ever worked with a stubborn, anti-authority kinda rebel like me.
So I return the favor when I teach.  (To mitigate the verbal thrashing and jive-talk, I also like to give out bottles of beer during the interaction.  It gets folks a little more motivated to speak up… especially since I often ask for the person with the suckiest exercise answer to stand up first and take their punishment.  I also sign the bottles.  This time around, we handed out longneck bottles of Lone Star when I liked the answers, and some other dismal local brew when I didn't.  One of the signed bottles of Lone Star later got auctioned off, hauling down $200 for charity.)  (Much higher price than any of the other bottles I've seen being flogged on eBay…)
Okay.  Back to betrayal.
Now, what I find fascinating during these interactive sessions…
… is how often the people who are positive their answer is pure shite, completely contemptible and unworthy…
… are actually on the right path. And just need a little honest nudge to be totally righteous.  (I've lost count of the folks in this category who've gone on to great things — all they needed was a small morsel of encouragement, and maybe a good kick in the butt to get moving.)
However… even MORE fascinating for a student of human behavior… there are also those folks in the audience who are ever-so-slightly smug in their certitude of being correct…
… even looking forward to getting an enthusiastic thumbs-up…
… who are actually waaaaaaaaaaaaay off base, and about to wander down that dark, nasty alley where businesses go to die.
The smart folks in this second category quickly shake off the shock of being told "Nope, you done screwed that up big-time, cowboy"…
… and immediately set about correcting course.
The less-smart ones resist, squirm, and double-down on their original path.  What the hell do I know about it, anyway?  I'm just a 30-year veteran with a loose truth-telling gene in my brain.
Hang with me here.  This is important.
The exercises I like to use really put the audience through their paces in the fundamentals of creating great sales messages.
No fluff.  It's fun, brisk work… but deadly serious if you're looking to jack your biz up a notch or two on the profit scale.
Those of you who've been through the Simple Writing System would recognize one of these exercises as The Barroom Conversation:  How would you actually address a stranger, face to face, in a bar where you just overheard that he has a problem that what you offer… fixes?
Basically… when you have just a second or two before the other guy either edges away, or lashes out to smack you down…
… what do you say?
The answer you give may well determine how effective you are at selling stuff for the rest of your days.  You can either head toward World-Class Land (where all them rich folk live)… or remain wandering the barren wasteland of clueless sales naifs.
More advanced students will recognize the subject of this exercise — it's your USP.  Or, how you position yourself uniquely in your market, in order to sell.  (In a strictly real-world situation, it would be how do you present yourself, in a public place where complete strangers don't usually chat with each other without introductions…
… in order to not freak the prospect out, and create an environment where he might be eager to hear the rest of your persuasive message.)
Now… back in Austin, there was this very nice gentleman who fell into Category Two — certain he was on-the-money with his answer to the exercise…
… when he was actually miles away, and headed in the wrong direction.
He still got a signed beer.  And I helped him see why his thinking was fuzzy — I actually had zero clue what he did, or what he was offering, based on what he gave as the answer to the exercise.
His message was vague to the point of leaving many of us with the notion he was maybe in the business of introducing executives to hookers.
After a few sputtering moments of re-explaining, though, I realized he was, instead, a serious go-between who connected biz owners with each other for joint ventures.
Oops.
Sorry about the hooker thing, there, buddy.
But here's the kicker: Several other attendees piped up, saying that they also didn't know what the guy had been talking about during the event…
… and they had shared meals with the guy, and spent long period of times with him talking about biz.
He was stunned.
And he turned around to face the room, a tad stricken, and said "But why didn't any of you TELL me you didn't understand what I was saying?  I thought we were communicating just fine!"
And that, right there, is a lesson for the ages, folks.
Basically:  Who's watching your back?
I don't remember a whole lot of anything else from my speech at that event…
… but I remembered this particular situation very clearly.  It took all of two minutes, but it was easily the most critical lesson to be learned all day.
It's beyond the power of networking.  This guy WAS networking.  He was connecting with folks, staying very involved, working the room.
But he made one big mistake: He trusted his own view of reality.
He took the smiles, nods and friendly banter of fellow attendees literally… believing everyone was in rapport with him, and understanding him completely.
When, actually, he may as well have been speaking gibberish.
Now, once he realized what was up, he was fine.  It was good to know now that he needed to be clearer… before he risked more money, time and will to live with his project.
But that's standard operating procedure for helping businesses get on track.  Not having a clear message is easily the MOST common blunder marketers make.
A much nastier problem… is that part where no one will tell you when there's a booger hanging out of your nose.  Most of your not-yet-close-friends in your network simply are not inclined to shoulder any responsibility like that.
And even your buddies often won't tell you when your gray roots are showing.
The lesson here is… there are levels to intimacy most folks don't understand, even in business.
Hell, maybe especially in business.
In fact, it's kinda like the circles of Hell in Dante's Inferno. Let's see if we can't organize it, just a bit… going from the biggest outer circle, to the intimate tiny one nearest your heart:
First, Really Big Circle: Strangers, who vary from being oblivious to you, to not caring even a tiny bit whether you live or die.  Rubber-neckers, happy to view any wreck you're part of, but not willing to do anything to help.  At all.
Second, Pretty Big Circle: Colleagues outside your inner group of confidants.  You likely represent a means to an end to them — they regard you as someone who might be vaguely connected to future profits or ventures, or you're a distant blip on their radar.
Third Large Circle: Colleagues at the edge of your inner group.  Name and face recognition is higher, and if you get out much to events, you may start seeing them regularly, even breaking bread or quaffing brews in the bar occasionally.  (And the bar, at marketing events, is where all good professionals know the REAL networking action happens… just FYI.)
These colleagues are on the fence about becoming closer to you, or becoming competitors, or deciding you're not someone worthy of further engagement.  You're still both unknowns in each other's world.
Fourth, Gettin' Smaller Circle: Newly minted insiders.  Still predatory, still might screw you in a biz deal… but also still might become lifelong pals.  But not yet.
Fifth, Fairly Tight Circle: Pals with whom you've shared some kind of adventure with. A partnership or co-venture requiring deep knowledge of each other… or some version of the classic "you don't really know someone…
… until you've been with them while you're both lost, wet, tired, and hungry" (ancient pre-wedding advice from some uncle or other).  (Hey, think about it — that's solid advice…)
Sixth, Tiny Circle: A longtime pal you've had occasion to trust, and who has come through for ya.  Someone who shares the Professional's Code: They make a habit of showing up where they said they'd be, when they said they'd be there, having done what they said they'd do.
Read that a couple of times, if it sounds strange to you.  Never judge a man by what he says he'll do… rather, judge him by what he does.
Someone makes it into this circle when they've expended energy to get you into a meeting you'd otherwise never gain entrance to, or have passed along fresh gossip (before it's ancient history), or didn't hesitate a nano-second before recommending you to others as a go-to-guy.  They're watching out for ya.
Count yourself lucky if you have ONE of these Sixth Circle types in your life.  You know you're feasting on life when you have a dozen.
Seventh, And Smallest Circle Of All: A trusted road dog who would take a bullet for you.  True friend, who has had opportunities to prove his friendship and come through shining.  He not only will tell you when you've got egg on your mustache… he'll defend you when you're not around.
You never borrow money from this road dog — he's already pressed it into your hand, before a word was said.  You don't pay him back because of a contract — you do it because it's the right thing to do.
And when you're completely comfortable riding in silence for an hour together, you know you've hit Friendship Paydirt.  You may argue, you may even not see each other for a few years as life intervenes…
… but when you re-engage, you just pick up the conversation where you left off.
Oh, hell, I could go on… but I'm getting kinda sentimental here.  Cuz I've been blessed with a few of these kinds of friendships, and I won't get to pick some of them back up until I sidle up to that big Algonquin Table In The Sky myself, to rejoin 'em.
So let's leave the circles as seven for now. It should at least be enough to make my point (and maybe get you thinking about who you're hanging out with).
This isn't a comprehensive list of friendship types, by any stretch. And there ARE strangers who will help you out, altruistically, on occasion.
But the lesson today is this: You can't assume even the colleagues closest to you will tell you when your fly's open.
When you find that person in life — the one who pulls you aside, not the one who tries to humiliate you in front of everyone — it may not mean you're destined to be great friends.
But I'll tell you what — anyone who won't be honest with you (especially when it's kinda important, like when you're walking around with bird shit in your hair, or you're about to tank your biz because you've screwed up your USP) isn't yet in the running to move up the circles.
Just something to think about, as your entrepreneurial adventure brings you into contact with more and more people, and the lines between friendship and colleague blur.  (And it's something to consider the next time you're in a position to help someone… even though you may have to be uncomfortable for a moment.  Which the vast majority of folks will avoid like the plague.)
What's your take on the subject?  The comment section is open.
Oh… and you've got an eye-booger on your lash…
Stay frosty,
John