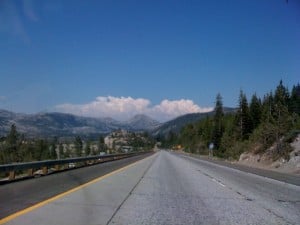 Tuesday, 9:18pm
Reno, NV
"He who refuses to embrace a unique opportunity loses the prize as surely as if he had failed." (William James, the Godfather of modern psychology)
Okay, let me get this straight…
You are seriously going to ignore one of the most amazing opportunities of your life…
… because…
… well, I can't even begin to fathom what your "because" reason might be.
I'm sure it makes some sort of sense to you… but it's probably an illusion.
I understand the weird, twisted way humans look at opportunity… because I nearly allowed the Big One to get away from me.
Like most folks, I sorta resented opportunities.  They never appeared at convenient times, it was seldom clear what was involved, and there was always some change required if I wanted to pursue it.
I had learned — as most people do — that if I just looked the other way, that pesky opportunity would vanish…
… and I could snuggle back into my cocoon-like comfort zone.  Safe and secure in the knowledge that nothing in my life was gonna be different.
And then, without warning, I was in my thirties, lost and clueless, saddled with a life of perpetual poverty and endless drifting.
Fortunately, I made up my mind one day to start jumping on opportunities.  Even the mis-adventures of slackerdom had dwindled to almost nothing… and, sleeping on a friend's couch in San Diego, with no home, no job, no life and no money…
… it finally dawned on me that if my life was going to get "started"… it was up to me to act.
No one was going to invite me to a better life.
And no opportunity was going to grab me in a headlock and drag me into wealth, fame and happiness.
I cannot even imagine what my life would be like today, had I continued to ignore the doors opening all around me.
So, yeah, I'm a big fan of opportunity.
And I've been doing my best to create opportunity for others.  It's part of the vow I took when I began my journey into business and living large… to give something back, all along the way.
However…
… I am not really surprised when I see people around me complain about the lack of movement in their lives…
… while habitually ignoring the opportunities that cross their path.
Now, sometimes opportunity arrives in a whisper… hard to detect if you're not looking, easy to miss when you're distracted.
No shame in missing those.  It happens.  (Though, when you get serious about changing your life, Step One is to attune yourself to the whispers of the universe… because that's where all the good adventures begin…)
However, sometimes opportunity whacks you upside your head… so obvious that you have to work at ignoring it.
And that's what I'm talking about here.
I've just been writing up some emails for attendees of our unique, head-rattling Action Seminar…
and I was stunned to realize that some names who NEED to be coming to this event… are not on the list.
The emails I'm writing will help attendees prepare for this game-changing event…
… because everything that happens in this 2-day interactive meeting…
… will be based on questions submitted by attendees, copy and websites submitted for critique by attendees, problems presented by attendees…
… and anything else attendees need addressed, fixed or solved to put their lives and their businesses on the Fast Track to making 2010 their best year EVER.
If the significance of this hasn't settled in yet, consider this:  I have assembled a stunning group of experts, heavy hitter marketing wizards, and the best problem-solving professionals I know…
… and they've all dedicated themselves to revealing everything they know about making the Big Bucks, while living large at the upper end of the business food chain.  (Where all the happiness, fame and real fortune lies.)
www.marketingrebel.com/action-seminar
There is no line-up of speakers.  You will not be sitting in a room and be lectured by professional talkers.  And you will not be pummeled by pitches to buy one product after another.
Nope.
This interactive event is completely focused on helping attendees put together an Action Plan for their business…
… crammed with specific steps to take immediately (spelled out in simple terms anyone can understand) to actually CHANGE your life.
This is how all the Big Dog marketers operate.  They get input from the best minds they can find…
… they brainstorm and get advice on their specific situations, needs, and goals…
… and then they map out a plan to make it all HAPPEN.
I love seminars, and I encourage you to go to events hosted by people you trust.
However, after 25 years of producing seminars, speaking at them, and attending them…
… I know that MOST people waste the experience.
They get overwhelmed with incoming data… theories and ideas and piles of "if only I could get moving on that" opportunities.
And then they get back home… and realize they have no plan on how to implement anything they've discovered.
They have notes… but no plan.
So all those theories and ideas are left in the "someday" pile of squandered opportunities… never to be put into action.
Well, screw that.
This seminar is all about action.  Getting the simple implementation details on things you can do immediately to fix your problems, move your biz forward, and get into the groove where life continually cooks on high heat.
www.marketingrebel.com/action-seminar
We're going to give you marching orders.  We're going to help you draw up your own plan, specific to your situation…
… along with the tools and secrets of putting it all into action as fast as humanly possible.
The experts I've assembled all know exactly what to do.  They DO it themselves (which is why each new year is their "best year" as they progress through career and life).
And… they're gathering for a 2-day blowout in San Diego to share what they know and do…
… with you.
If you can get your shit together enough to show up, that is.
Get the details now: www.marketingrebel.com/action-seminar
Look: I chose San Diego partly because it was the scene of MY big realization about opportunity.
Maybe there's something in the air down there, carried on-shore by ocean breezes.  Or maybe it's in the water.  Or the perpetual sunshine.  Or the sheer impossibleness of getting through a day there without a huge smile on your face…
… cuz, you know, you're in paradise.
It's also one of the easiest and nicest airports to get into and out of in the country.
The "Murderer's Row" of experts includes the famous, the notorious, and the most successful go-to-guys in the biz.
We're gonna cover "Getting Your Act Together To Make 2010 Your BEST Year Ever" from A-to-Z… including:
Figuring out the weaknesses of your competition…
Gorging on traffic (so your pile of hot leads is bottomless)…
Creating new products that attract buyers like crazy…
Digging deep into the groove of getting stuff done efficiently (so you have more time off, even as you make more money in your chosen gig)…
Learning the cutting-edge unfair advantages of expert-level social media, pay-per-click, video selling, and classic ad creation…
And everything else you know you need advice on… including solutions to problems, directions on the next steps to take, warnings when you're screwing up, precise lessons on writing what needs to be written, and more.
In fact, if there's anything you have a question about… any problem you're hung up on… any piece of copy you want critiqued and fixed up… and any tactic, tool or business model you want expert input on…
… you can get it at this Action Seminar.
This is what we're going to do, for two solid exciting days.  Talk biz, solve stuff, and help attendees put together a plan to crush it in 2010.
But you gotta BE there.
I know, I know… it's coming up too fast (it's January 29 and 30, just a short few weeks away)…
… and you gotta get off your butt in order to make it happen.
You have my sympathy.  I've been there — looking at opportunity I knew I needed, wanted, should embrace…
… and dithering until it went away.
So I could crawl back into my comfort zone, where I wouldn't be inconvenienced by life changes or adventure or, really, anything new or exciting.
For most folks, I offer up a pass on this opportunity.  It's not for you.  You're not ready, it's too inconvenient, it requires too much… life-force… to get moving on.
However… for those of you who should be here (and you know who you are)…
… there are no excuses for you not joining us:
www.marketingrebel.com/action-seminar
It's cheap.  (An hour with me costs $2,500.  Most of my previous events have cost $5,000 just to attend.  You cannot corner ANY of these experts I've assembled without going deep into your wallet… if you can corner them at all.  Yet… attendance at this event is just under $800.  We purposely priced it low to allow more people to jump in.)
(Side note: Do NOT come if you have to borrow or hock Grandma's jewelry to afford it.  If you're that broke, you need to step back a bit and get a better handle on your situation.
However… if your business or career is suffering in the economy, or if you've hit multiple sticking points that have frozen your growth, or if you know you can get moving at lightning speed once you have a clear plan to implement…
… then you're right in the sweet spot of attendees who will get the most from this event.
Again — we're all about fixing problems, and shedding light on the dark areas of your quest for success… so you can ACT on accomplishing your goals.)
And… I can go on, but I've hit a wall.
You can lead a horse to water… but you can't make him drink.
Horses are too stubborn.  Even thirsty, staring at scarce resources, and really needing to drink… they'll dither.
Most people have that same quality.  Stubborn, mired in self-defeating habits, scared to death of change or adventure.
If you have good entrepreneur's blood coursing through your veins, you already know what you need to do.
Have that argument with yourself, if you need to… where you stack up the excellent excuses on why you "can't" possibly attend this one-time-0nly event.  (Cuz we're not giving it again.)
Listen to Mr. Scaredy-Cat living deep inside you.  Listen to the chorus of "don't, it's too much trouble" and "OMG, what if you went and were disappointed" and (my personal favorite) "There'll be another great opportunity along shortly… no need to jump on this one."
Ah, the bullshit we regale ourselves with.  The myths and lies we comfort our frightened souls with.
The nonsense we put up with, all because the courage to change and take control takes a little effort to summon.
The room is getting full.  (And the special low rate we scored for rooms at the hotel is going away VERY soon now.)
The folks already signed up are excited, with good reason.  It's gonna be a blast… and it's gonna change lives.
If you're in that group of people I thought for sure were going to join us… and you know who you are… there's still a bit of time left to come aboard.
I'll see you in San Diego.
Stay frosty,
John