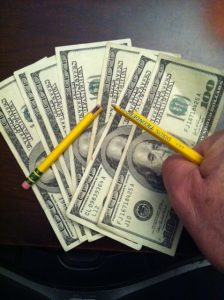 Thursday, 8:41pm
Reno, NV
"What you want, baby I got it…" ('Retha)
Howdy.
Let me warn you up front here: This is not a trick question.
It's totally on the level.
Still, I bet most folks botch it.
So, before I even ask…
… let's sweeten up the stakes a bit.
The first person to answer correctly… will be shipped a free copy of the "Kick-Ass Copywriting Secrets of a Marketing Rebel" course (text and CDs). (Or, if you already own that notorious course… you can ask instead for a copy of the currently unavailable "Freelance Course" — the manual that launched a generation of mercenary writers into the Web.)
(The Kick-Ass course currently goes for $299, by the way. And the Freelance manual, when sporadically released, goes for even more.)
(So, yeah… nice prizes.)
But you gotta be first…
… and you gotta be right.
Okay?
Okay.
Here's the question:
(Quick set-up): Just 3 months ago, I was offering consulting clients a small menu's-worth of specific advice on how to deal with economy-caused business problems.
All of that advice still holds true. Biz owners who have followed any of it have seen results "hot" enough for them to chase me down (through email or by phone) to demand that I hear their success story. And use it in my "Wall O' Testimonials".
However…
(Tease): Just ONE of those specific pieces of advice has stood out from all the others.
It is, in fact, now the single most important thing I make sure EVERY new consulting client hears. And hears clearly, without any ambiguity.
So…
(Ta-daaa!): What do you think that one piece of advice IS?
Do you think it is, perhaps…
Get hip to Twitter?
Buy a new computer? Move up to a Mac, or sideways to a hot-rodded PC?
Learn a new application? To maybe boost your SEO, or your PPC… or to evaluate your data?
Read some new books?
Attend a bunch of seminars?
Buy new gear, like video equipment?
Or what?
If you've been reading my drivel for any length of time, you SHOULD have the answer tripping lightly off your tongue already.
Hint: It's not learning how to write copy.
Oh, sorry. That just bolluxed a whole bunch of incoming answers, didn't it.
Okay. No more hints.
Send in your answer through the comment section, below.
It will automatically be time-stamped, so the winner will not be in doubt.
C'mon.
It's the end of the week.
An exciting, wild ride of a week, too.
But you've still got at least eight brain-cells left today — plenty to cogitate on this question, and give me your answer (before boogy-boogy-ing out to TGIF Land).
You could win that nifty prize. I'll sign whichever prize you choose, too. I never sign anything anymore. That'll make it rare and valuable and cool.
Let's give this little quiz a time limit of…
… oh, how about 27 hours and six minutes.
That means midnight, west coast time, Friday is the cut-off.
It's a worthy question to ponder.
Remember: I am (blush) one of the most sought-after advice-givers in the direct response marketing/advertising game.
There's a reason for that.
And there's a reason why — after a very long time of having many pieces of advice in my "first response" to any client — a single marching order now dominates every consultation I agree to.
Okay, one more hint: It's because of the economy that I've narrowed my "menu" down to one screaming suggestion.
Can't stop — one last hint: It works like crazy to nail every single goal, wish and target you have.
Okay.
Let's hear your answer.
Stay frosty,
John Carlton
Friday Afternoon Update:
Wow. Some really great stuff coming in.
In fact, answers were coming in so hot and heavy, the "comment accepting process" jammed at some point late last night… and some folks had to email my assistant Diane. (It's working fine now.)
And, as more than one person observed… even though the answers aren't the one I'm looking for… this is one hell of a nice list of ideas, tactics and strategies. An education in and of itself.
Great work. From everyone.
Now, about the prize…
So far, there is just ONE person who's close enough to win.
He could still be trumped by a more precise statement of the advice I'm talking about. But if (by midnight tonight) no one nails it exactly, then we have a "Close Enough" winner already.
However, the contest is still very much wide open.
I'm happy to see so much solid thinking going on. That's good. You win by forcing your brain to work this way, you know.
It's also wicked-good fun to torture everyone like this.
And… I'm frankly a little surprised this wasn't answered quickly last night.
It's not rocket science.
It IS, I'm now seeing, slightly out-of-the-box for most small biz owners and entrepreneurs, though.
I should add: Every client I've laid this advice on has taken it, eagerly.
I'll post the answer — and the name of the winner — early tomorrow.
Go get 'em.