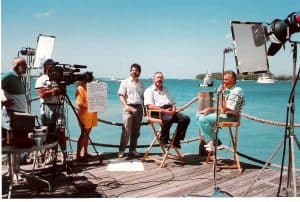 Ladies and gentlemen… I shall try not to be gloomy or morose here. In honor of a man who deserves such an honor (and who would have heartily appreciated the rock and roll reference)… I will borrow the famous line used to calm to the crowd after Elvis had ended his concerts:
"Gary Halbert has left the building."
He died peacefully in his sleep, in his apartment in Miami Beach, sometime during the night of Sunday, April 8, 2007.
He was my friend, my colleague, my partner, my mentor… but mostly my friend. For over twenty years (many of them the wildest of my career), we shared a close, comforting relationship that included adventure, drama, tears and laughs.
Mostly laughs, of course. He was bigger than life, and could suck the air out of any room he entered without saying a word… preceded only by the shock-wave of his hard-earned reputation. He had a lust for experience, an astonishingly huge appetite for everything available in life, and took great pleasure in being who he was.
And he truly was a great man. He single-handedly changed the nature of modern direct response advertising… and through his teachings, spawned three generations (and still counting) of rabble-rousing entrepreneurs and marketers who continue to force the business world to bend to their will.
He was generous to a fault, never suffered fools, and earned the love and admiration of everyone he met. All genius has a few rough edges, and Gary's rough edges were legendary… but none of us would have had it any other way. He was a total package, and his life was full and well-lived.
We shared a lot of tragedies, in between the triumphs, and it was his sense of humor that helped us to survive, and even come out stronger than ever.
I know, from personal experience, that when things got so bad even your closest friends shied away… Gary would stand next to you and weather the storm, blow for blow, refusing to let you down. And, when you just couldn't cry about it any longer, he would make you laugh.
It rattles me to my core to think I'll never hear that warm, lusty laugh again. Someday, I'll be able to listen again to the recorded stuff we did together… and you cannot listen to anything Gary did for very long before you'll hear him laugh.
I hear it now, in my heart, strong and clear and reminding me to stay strong.
He was a brave, formidable, brilliant man with more real talent and genius than seemed possible.
And godammit, he's gone. I had a nice, invigorating chat with him on Friday, received an email from him on Saturday… and then today, I got one of the worst calls in my life. His sons Bond and Kevin, who I watched grow from teenagers into a strong, confident men, delivered the news.
Gary Halbert. Born June 12, 1938. Passed away April 8, 2007, just shy of his 69th birthday.
He leaves a void that will never, ever be filled. No one with any sense will even try. No one still around comes close to being worthy.
For twenty years, I have lived in a world with Gary close by. Even when he moved to the east coast, we remained bosom buddies, not just staying in touch, but desperate for word from each other and eager for long chats. We could talk for hours on the phone, just trying to make sense of the chaos and sharing our wonder at the ludicrous nature of reality.
I would not be who I am today without that long, amazing friendship.
This isn't the loss of a single, good man.
This is a rip in the tender fabric of the universe. I can feel his absence, as if a large part of me has been hacked off.
Today, the world is smaller… more hostile… and vastly less fun than it was yesterday. Yesterday, when I still could have picked up the phone and enjoyed Gary's soothing voice and thunderous laughter.
There will be a lot said of Gary in the coming months. He deserves a legacy fit for a king, and I will do my part in making that happen.
But for now, I don't want to share my memories with you. For now, those memories are for me and his family alone, while the grief and shock runs its course.
A great man has moved from this corporeal adventure, to somewhere else where genius writers are welcomed and cared for. And while I strongly feel we will meet up again… for now, I must hold tight to the fading echo of our last conversation. I'm thankful I had the opportunity to tell him I loved him, one last time.
And I did love the man. Everyone who knew him did. For many of us, he was a rock, an anchor in a world roiling in confusion and danger.
Let no one say he didn't live an amazing, purposeful and productive life. He touched a lot of lives. He shall be more than missed… and he will never be replaced.
Ladies and gentlemen… Gary Halbert, my dear friend, has left the building.
John Carlton