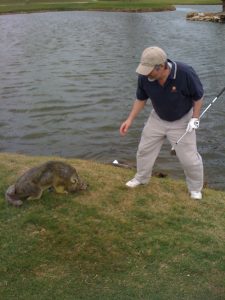 Tuesday, 3:29pm
Reno, NV
"I can't seem to face up to the facts, I'm tense and nervous and I can't relax…" (Talking Heads, "Psycho Killer")
Howdy…
What's the matter, Bunky?
The news got you down?  The economy keeping you up at night?  Are sales in the toilet, creditors stalking you, clients not returning calls, the sheer angst of living in a modern tech-drenched world chewing holes in your gut?
Would you like to hear how grizzled veterans handle the evils of stress?
It's good stuff… because, as everyone should realize, you don't get to BE a grizzled veteran if you can't handle stress.  Cuz that shit will eat your ass alive and send you to an early grave.
In fact, this is easily one of the fundamental tools for surviving the Bidness Never-Ending Cage Fight.  I noticed, in the first years of my freelance career (when I was searching semi-desperately for clues on how to become successful), that there were biz owners who were having fun… and there were other owners not having any fun at all.
Age had nothing to do with it.  Nor health (though the fun-havers consistently were in better shape).  Nor gender, nor — and this is important — how successful they were.
The difference was simply how they handled stress.Read more…