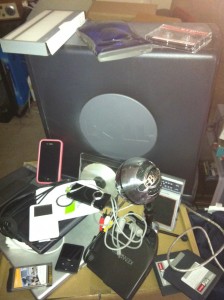 Wednesday, 11:56pm
Reno, NV
"Indeed your dancing days are done…" (Irish folk song)
Howdy.
I hope you're doing well, and seizing the day.  As we all should, every day we're alive.
Sometimes, for me, the best way to appreciate life is to, occasionally, also appreciate death. For all the sound and fury and chaos surrounding us on the Big Earthly Stage… for all the urgency of accomplishment and all the troubles of cobbling together a modern lifestyle…
… sometimes you just gotta stop and take a deep breath.
And know that, at some point, there will be one last breath like that… and then no more.
All of us sharing space on the planet have been granted a ticket to ride, and none of us know how long the ride will last.  Or how it ends.
Or, for that matter, what's going to happen one second from now, let alone tomorrow or next month or next year.
And yet, life goes on.  And goes on well for some of us, and progresses haltingly for others. But it goes on.
For Steve Jobs, the dancing days are done.  I did not suspect his leaving us would affect me this profoundly, but it has.  I never met him.  And yet, our lives are intertwined.  I'm writing this on an iMac, using the friendly interface he championed (and forced the "who cares about fonts" geek-dominated virtual world to adopt), while my iPhone sits nearby (buzzing with incoming texts).
There will be plenty written about Jobs and his effect on how we live today.  I've already read a dozen articles online… and even the iHaters have to admit the world has shifted significantly with Steve gone.
For me, he was the Uber-Entrepreneur.  Dropped out of college because his energy and ideas bristled at the shackles of staid academia.  Aimlessly sought out ways to engage with life on a more grand scale, correctly sensing that the world was about toRead more…