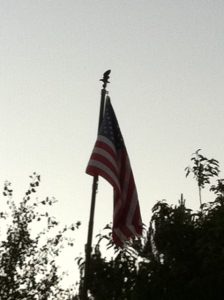 Tuesday, 11:22pm
Reno, NV
"I'm a long gone daddy in the USA…" (Bruce.)
Howdy…
For most folks in America, July 4th is about picnics, blowing shit up, and toasting the gutsy nature of our country.
Born in defiance and battle, prickly and belligerent and idealistic, with built-in endless (and often absurd) political arguments…
… we've somehow made the grand experiment last a couple of centuries and a half.
For me, though, the real victory of the joint isn't in the details of elections or legislation, or the question of how exceptional we are or aren't as a culture.
Nope. My own pursuit of life and liberty has always balanced on the First Amendment…
… particularly the parts about freedom of speech and freedom of the press.
That's the beating heart of this place. That's the saving grace.
For every writer here… novelist, copywriter, journalist, blogger or disgruntled "letter to the editor" ranter…
… there is a long, gruesome pedigree of ancestor writers who were prosecuted or erased or bullied into silence, stretching back as far as history goes.
We're so spoiled here with freedom of speech, that many naively believe it's an essential privilege that, of course, is the rule and not the exception.
Yet, the opposite is true.
"11 Really Stupid Blunders You're Making With Your Biz & Career Right Now."
Just enter your name and primary email address below and we'll send you the new report right away.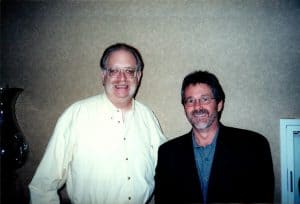 Friday, 2:09pm
Cleveland, OH
"Momma's all right, Daddy's all right, they just seem a little weird..." (Cheap Trick, Surrender)
Howdy…
I sure hope you were in Cleveland last night, and caught the "Old Dogs Bark" show that Dan Kennedy and I did onstage at his huge event.
If you were… congrats. You witnessed something people should be talking about for years to come.
And if you didn't…
… well, shame on you for missing it. How often do you think the geezers of the marketing world (the guys with all the best stories, and most reality-based profitable advice) are going to be around to share this stuff?
Time to make the effort to gobble up the great advice and golden stories while we're here to tell 'em. 
This blog is a great place to start, too.
And hey — I've got a little gift for everyone.
If you're new to the this blog, you're in for a treat. Twelve years of free archives, for your education and enlightenment, are available 24/7. Jump down two posts below, and you'll find an article entitled "How to give this blog a good 'test drive'… in just 3 minutes". Blow through that post, and you'll be totally hip to everything this blog has to offer.
And even better…
… if you sign up right now, you'll not only get notices for new posts (and other cool stuff I've got going on you should be interested in)…
… but you also get a free gift. A free report called "11 Really Stupid Blunders You're Making With Your Biz & Career Right Now".
It's a brilliant short-course reality check that should help you avoid murdering your future, quickly and efficiently.
All the common mistakes I see entrepreneurs and freelance copywriters make are in there…
… identified, deconstructed, and solved.
Best damn special report I've ever written. Killer stuff. All the best angles and solutions I use in my lucrative consulting biz.
And…
… it's free. Just for signing in.
And if you're already a sign-in fan of the blog, just sign in again to get that free report. We'll take care of duplicate sign-ins easily enough. No hassles.
Here's how to get your free report: Just fill in the box below…
… and you'll get your free report emailed to you post haste.
Meanwhile, check out everything else here. The posts below are a great intro to what you'll find in the 12-year-deep archives. And if you don't have my books, well, get on that right now (in the right hand column). Plus, lots of other goodies.
Have fun. Don't hurt yourself in the archives — I've seen people get obsessed with reading everything all at once, and it can lead to brain-freeze.
Pace your bad self.
I'll be back here with a fresh post soon…
Stay frosty,
John
P.S. We just switched hosting companies, so all the comments here were left in the dust.
Please feel free to comment on any post — I hang out enough to usually answer every one, if you have questions or just want to share something.
We had a great, long run with Host Gator as our blog hosting company, but they're gone way downhill lately, to a dangerous place where the site was down a lot. So we've moved to Liquid Web, which so far is a totally bitchin' outfit. Very professional, very much on top of making sites like this work smoothly. I'm happy now…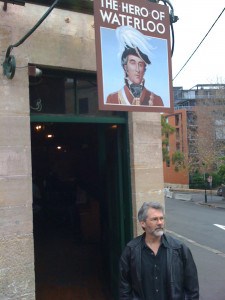 Monday, 1:32pm
Reno, NV
"But it's all right… in fact it's a gas…" (The Stones, "Jumpin' Jack Flash")
Howdy…
It's time for another orgy of graduation rites across the land…
… and, in honor of it all, I am re-posting my now globally-notorious big damn rant on the subject. This was one of the more popular posts I've written, so it deserves an annual rediscovery.
So, without further ado… here's the sixth redux of that post:
Nobody's ever asked me to give the commencement speech for a graduating class.
That's probably a good thing. I'm pretty pissed off at the education system these days, and I might cause a small riot with the rant I'd surely deliver.
See, I have a university "education". A BA in psychology. (The BA stands for, I believe, "bullshit amassed".) I earned it several decades ago…
… and while I had a good time in college (height of the sex revolution, you know, with a soundtrack that is now called "classic rock"), made some lifelong friends, and got a good look at higher learning from the inside…
… that degree provided zilch preparation for the real world. Didn't beef me up for any job, didn't give me insight to how things worked, didn't do squat for me as an adult.
I waltzed off-campus and straight into the teeth of the worst recession since the Great Depression (offering us Nixon's wage-freeze, record unemployment, an oil embargo, and near-total economic turmoil)…
… so, hey, I should have a little empathy for today's grads, right?
Naw.
While today's graduates are facing similar grim economic times, there's been a significant change in the concept behind a college education. Somehow, over the years, a bizarre mantra has taken hold in kids minds: "Get a degree, and it's a ticket to the Good Life."
A job is expected to be offered to you before the ink is dry on your diploma.
And it really, really matters WHICH school you get that diploma from.
You know what I say?
Tuesday, 9pm
Ft. Lauderdale, FL
"After 6 hours of school, I've had enough for the day…" (Beach Boys, "Dance, Dance, Dance")
Howdy…
If this is your first time here, let's see if we can't make it completely painless (and even fun).
Cuz, you know, it'd be a shame if you got spooked, and were thus deprived of the vast (free) resources and time-tested tools available here.
So let's just dive in, what d'ya say?
Step One: Sign in, under "Get The New Report" box on your upper right. Use your best email address, please. You will not be deluged with email — I post once or twice a month, max, and will send you advance notice.
I promise I'll be a rare, welcome presence in your inbox. You can always disconnect anytime, simply and easily. This ain't like signing up for a phone plan or a stint in the Army.
Step Two: Just skip through the (free) archives. There is ten years worth of serious advice, insight and revelations for copywriters, entrepreneurs, biz owners and even folks still at the "dreaming about it" stage of getting after your goals.
No need to get lost in there — just realize it's available, whenever you're ready to learn or expand your toolkit. Free.
If you've got a few extra minutes, though, and you'd like to read some popular recent posts, try "How To Hire A Copywriter" from last year (which helps clients understand how to get the best freelancer they can)… the redux of "The Rest Of Your Freakin' Life" (one of the most referred-to posts on living well I've ever published)…
… and "The Entrepreneur's Checklist" — a perfect "quick start" guide for moving up to the next level of your career or business goals. Fast, and without a lot of fuss… and ESPECIALLY without any surprises. You can search directly.
That's just to get your feet wet here. A small mob of fans drift through the archives several times a week, reading only what grabs them.
You'll discover, almost in the first minute of reading, that this isn't your "normal" kind of blog. Most of the posts are written by me, personally. Each one has been carefully planned out, edited, and published only when ready for mass public consumption.
Enjoy.
Step Three: Finally, be sure to examine the stuff available in the right-hand column…
… like my best-selling book "The Entrepreneur's Guide To Getting Your Shit Together". You can score the digital version for ten measly bucks, and indulge in nearly 400 pages of timeless advice, insider stories, and specific tactics to making money as a marketer or advertising honcho.
You don't have to pick up anything in this column, of course. Just be aware of what's available… in case you realize (perhaps after reading a post or two) that there truly IS a reason why so many professional copywriters and top marketers admit I was the mentor who flipped their switch on.
Plus, in the "Consulting" tab up top, under the logo, you'll find out how to reach me directly. I'm one of the few grizzled veterans in the advertising world who still enjoys interacting with folks regularly, and occasionally taking on a new client. Not often, but occasionally.
Anyway, you can complete this "get acquainted" little go-round in just a few minutes.
If anything grabs you, devour it. Again, the ten years of archives are free.
I'll be posting a fresh piece soon, too. So be sure to sign up, get your hot free report, and enjoy getting a few (and only a few) emails from me in the near future.
I may not be everybody's cup of tea.
But if we click, we'll click big-time… and you'll remember this day as a turning point in your life. It doesn't get any realer than this blog…
Stay frosty,
John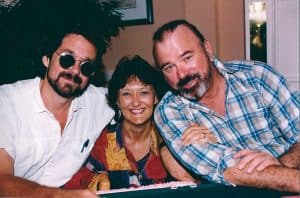 Wednesday, 1:50pm
Reno, NV
"Nothing is impossible for a man who refuses to listen to reason." (Gary Halbert)
Howdy…
I learned a lot from Gary Halbert, but the lesson that most affected my life had nothing to do with copywriting.
Rather, it was about living well.
I began my freelance copywriting career back in the "dark ages" of the mid-eighties, when direct response advertising had gone out of fashion and there were just a handful of us "true believers" in the game, devouring the ancient (and often out-of-print) books on advertising while doing the hard work of becoming masters at old school salesmanship…
… so we could relentlessly obliterate our clueless competition in every market we went after.
I was fortunate to live in Los Angeles at the time… because multiple large agencies had just opened up branches there and were starved for competent copywriters. I quickly became the guy the creative directors snuck in the back door to do the work their house staff couldn't pull off (because none of them studied the craft).
Then the large mailers back east caught wind of my work, and I found myself moving in the "A List" crowd of now-legendary copywriters like Gary Bencivenga and Jim Rutz (who I ghost-wrote for).
However, the corporate world bored me to tears. It was primarily financial and health newsletters with the large mailers, and insurance and equipment sales with the agencies. Yawn.
That's when I met Gary, at Jay Abraham's house. He was the most arrogant, vain and outrageous person I'd ever met in the business world…
… and I liked him immediately.
Howdy.
If you're here via the EOFire interview with me that was just published…
… welcome.
Let me introduce this blog to you, briefly.
First: We've got a sizzling (and free) "Simple Writing System Express Course" going on right now at www.simplewritingsystem.com …
… where you can score some real marketing skills in just a few minutes.
The lessons are available right now, and it goes quick. It's also solid fun, if you're in any kind of business that requires killer marketing tactics to bring in the Big Bucks.
You'll enjoy this… and the new skills you discover will transform your ability to turn prospects into customers.
Next: There's a nice "If You're New To The Blog" post just to your right, in the right-hand column… just click on it to bring up a quick post explaining everything.
There are some 13 years worth of FREE archives here, accessible in the lower part of the right hand column by year. Yes, this is one of the very first marketing and business blogs, and it's been a regular stop for top entrepreneurs, copywriters and lovers of outrageously successful advice since it debuted in 2004.
In these archives, you will find a vast library of specific tactics, strategies, philosophy and direction on running a successful biz and living life well. All written by me (with two or three exceptions, when I asked colleagues to post something important). All revealing the really good stuff from my 30-year career as an "A List" copywriter, business consultant, marketing guru, and all-around bon vivant.
Dive in anywhere you like. There are tags and categories on each post… or, you can just browse.
You can get a mini-MBA education right here, straight from the street-savvy secrets I share here. All tested and proven in the brutal and unforgiving real world.
I've also targeted a few "must read" posts you might want to start with, from the archives.
Also in the right hand column, you can browse through the courses, books and consulting offers I keep current. Just click on any icon for more info.
Finally… remember…
… you can sign up to get email alerts when I post something new, up in the top of the right hand column. You'll also get a cool free report.
I'm not everyone's cup of tea. I'm sometimes crude, but always honest…
… and everything I share comes from my personal experience in the biz world. Where I established a pretty nice reputation as a copywriter to be followed, a consultant to seek out, and a speaker who blows the roof off the joint on stages worldwide.
I hope you're the type who appreciates solid, reality-checked insight to creating, maintaining and nurturing solid business models. From creating killer products, to advertising effectively (which most marketers do NOT), to putting the pedal to the metal on living large and raking in the Big Bucks.
Because… if you ARE this type of entrepreneur or biz owner… then you've just stumbled on a true treasure trove of exciting, relevant and useable advice.
Go on, dive in.
Love to hear what you think, in the comments. I'm always hovering, personally answering comments and inviting others to join the threads.
Stay frosty,
John
P.S. If you're interested in a good place to start, I suggest the first course I created…
… a primer on becoming a true "insider" in the advertising and marketing world called "Kickass Copywriting Secrets of a Marketing Rebel".
Dog-eared copies of this course (it's not digital, and will be rush shipped to you when you purchase it) sit on the desks of famous, notorious and wealthy entrepreneurs, copywriters and marketers all over the world. Just check out the testimonials to see how others have put it to immediate use.
Grab your copy here.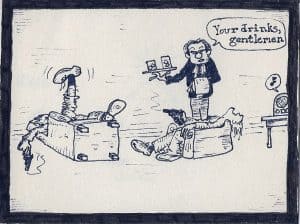 Saturday, 3:53pm
Reno, NV
"Well, excuuuuuuuse me." (Steve Martin)
Howdy.
One of the very bright dividing lines separating happy, successful folks from the unhappy wannabe's…
… is the role of excuses in moving through life.
Dudes and dudettes who get stuff done stare down obstacles and find ways through or around them…
… no matter how long it takes, or how many times they fail at it.
They're the minority.
Much more common is the notion that having a good excuse lets you off the hook for getting something done.
Our bollocked-up school system encourages this — oh, your dog ate your homework? Okay, you can have an extra day.
And it just gets worse in adult life — oh, sorry I T-boned your car there, but I just broke up with my girlfriend and was re-reading her last text to me… sniff…
At some point, most civilians will be on their death-bed, looking back on their failures and crushed dreams, and have to find cold comfort in the idea that at least they had good excuses.
They tried, sort of, and had their feelings hurt or their efforts rebuffed, and what can you do?
Life's hard, right?
Okay, fine. Cuddle up with your excuses.
You might garner a bit of sympathy from some folks, but you'll just continue to be disregarded by anyone feasting on life and getting stuff done.
Start with being late. If you think it's okay, as long as you have a plausible excuse (the traffic lights were absolutely conspiring against you, or gosh, clocks are just hard to understand, you know?)…
… then move to the back of the line right now.
You may actually HAVE a good excuse this time…
… but if being late is "who you are" (and yes, you are judged harshly and continually in the biz world on this stuff)…
… then consider WHY it's a habit.
Look deep. It may be passive-aggressive behavior you picked up as a kid. It may be a symptom of happiness-corrupting disorganization (which no potential client wants any part of). It may be undiagnosed ADD, or even the first ripples of real cognitive disorder.
But usually, it's just a habit. You keep getting away with it — or you THINK you're getting away with it (and really, the people around you just stop relying on you, and consider you a liability).
The consequences seem mild — maybe somebody gets pissed off once in a while, or you miss a flight. Whatever. Life is hard, right?
Get off my case.
The problem, of course, is that if you want to play in the level above you — in biz, romance, sports or just generally effective living — you are going to pay dearly for your bad habits.
Top clients won't put up with sloppy non-professional behavior. Self-respecting potential romantic partners will avoid committing to you.
And a whole bunch of cool life experiences will vanish…
… all because you think having a good excuse absolves you from the responsibility to be where you said you'd be, when you said you'd be there… prepared to do what you said you'd do.
Getting away with something is NOT the same as "succeeding".
Highly effective people, who get shit done and succeed at life, rarely allow excuse-artists into their lives in any meaningful way.
Buy a fucking watch. Add twenty minutes to your estimation of how long you'll need to get somewhere (or more)…
… and if you're early, find a spot to kick back and check email or Facebook or just relax. Or read a book. There's no such thing as "wasting time by being early". Be prepared for it.
And it's worth repeating: Yes, the people operating in the level above you ARE judging you by these small behaviors.
Maybe other folks in your world are just character actors, whose time isn't worth much. (That's the way stone-cold sociopaths think, you know.)
However, the successful crowd you want to be dealing with will not put up with that bullshit.
Okay, you better get moving. You're gonna be late…
Stay frosty,
John
P.S. The foundation of living effectively…
… is really just a bunch of simple insights, rules and strategies that are easy to adopt…
… once you figure out what they ARE.
Simple shortcut to finding them out, right here.
P.P.S. Yeah, I drew the cartoon at the top. College days, when I was the staff doodler at The Cal Aggie Times in Davis.
This was my idea of wickedly insightful humor.
I dunno… what do you think?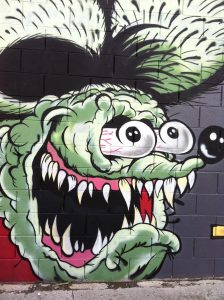 Saturday 3:08pm
Reno, NV
"Do the least damage possible to the client." (Me.)
Howdy.
Recently, a good pal (and damn fine copywriter) had a bit of a meltdown…
… because Life inserted some truly cruel and unusual shit into his day, and he was in danger of missing a deadline. (That's a photo of a deadline, above. Nasty thing.)
This is a no-no among most top professionals of all persuasions. You don't miss deadlines.
People are counting on you. As a freelancer, entire businesses may be counting on you.
Back when I wrote for the largest direct mailing outfits in the world, a missed deadline might mean tens of thousands of bucks wasted, as printing presses sat idle. If my piece was meant for a print ad, even more money could potentially go down the tubes — my deadline was attached to a publication deadline, and no magazine or newspaper waits for you to get your shit together.
You don't get your ad in on time, you don't go into the publication. And you still have to pay (at least a penalty, and maybe the whole ad cost).
It's serious stuff.
Still…
… because we're all humans living in an essentially hostile world (full of danger, unpredictable risks, and lots of other gruesome horrors)…
… you need a plan.
A plan for that day (which hopefully never comes) when… shudder… you may be forced to miss a deadline.
My colleague is a true pro. He understands that clients and printing presses and budgets and biz plans are counting on him to meet his deadlines…
… and over a decade as a freelance copywriter, has never to my knowledge missed one.
And yet, here he was…
… cornered by Life, and needing some advice on what to do.
So, I whipped out a short list of options.
And it was so good, I thought I'd share it here.
For you to use NEVER… unless there is absolutely no other choice.
So, ONLY for your deep Bag O' Tricks-Maybe-Needed-Down-The-Line (and never for regular use), here's that advice:
How to get out of a deadline…
… when you absolutely have to (cuz you're faint from loss of blood, or space aliens kept you locked up all night doing anal probes, or your eyes fell out…
… which, by the way, are the ONLY real excuses a true professional would ever let get in the way of a deadline. Other than life-or-death emergencies.)
Let's begin with the stark fact that I, for one, have never missed a deadline. Never. In a 30-year writing career.
A few colleagues have expressed shock over that. Cuz, from the complaints I've fielded over the years about my cohorts, the average copywriter misses approximately half his deadlines. From rookie to top dog. It's appalling.
But it also opens up a huge opportunity for writers who want to stand out (as all the "A Listers" do). One of the reasons I earned the global reputation I enjoy, in fact… is by meeting my deadlines.
Deadlines are sacred. I made a vow early in my career, "biz before pleasure", and I stuck to it.
Without that attitude, I would be just another run-of-the-mill copywriter. No fame. No fortune. Not worth much.
In fact, the whole notion of meeting ALL your deadlines caused me to create what I call "The Professional's Code". It's good for anyone in any kind of job where people count on you.
Here's that code: You are where you said you'd be… when you said you'd be there… having done what you said you'd do.
It's just that simple. In biz, romance, hobbies, getting your hair cut, everything you do… you follow the code.
If you crave the respect (and rewards) of BEING a true pro…
… you move heaven and earth to make this code REAL in your life.
You become That Guy who can be counted on. Who follows through. Who you can trust with your life. Or the life of your business.
Still…
… nevertheless, there may come a time in your career when life interferes so drastically…
… that you are forced to miss a deadline.
If that happens, here are your options:
Option #1: Arrange for an extension. You do not reveal details of your emergency. You're not looking for sympathy. You're a professional who is admitting that you cannot meet the current deadline…
… and something else needs to be arranged.
If they refuse your request for an extension, then: (a) return whatever fee you've already been paid, and deal with the professional shame of missing a deadline…
… or (b) hand in whatever you've completed up to this moment (if it's even close to being what the client needs)…
… or (c) combine (a) and (b).
You may lose the client if what you give them isn't something they can use… but then, who needs clients who don't respect the fact that — once in a while — life hands you a bummer? (And, to be fair, what client needs a writer who misses deadlines?)
This is assuming you haven't made a habit of missing deadlines. You may have earned some slack, IF your rep is clean up to now.
If missing the deadline causes a huge problem for the client, then your reputation has taken a massive hit…
… and your job, for the next few years, will be to try to repair your reputation. It will be hard. And dependent on you never missing another deadline.
If you take the hit, face up to it. It's a setback. You'll have to work to fix it.
It is what is. (Good Zen advice for living imperfectly in a rough world.)
Getting an extension is the best possible option.
But it only works if it works for your client, too. 
If you must face the reality that you will not meet the deadline…
… then own up to it as soon as possible. Do not try to keep a fee you haven't earned.
And — most important — do not vanish on the client.
The WORST thing you can do is go radio silent, leaving your client in the dark… just because you're too embarrassed to admit you're missing a deadline.
This compounds the error, essentially tossing your reputation into the toilet.
Own up to the situation. Again, you do not need to share details — what's important to the client is not what's happening to you, but what's to become of his campaign. He paid you to do a job, and you're not doing it. There are no "good" excuses for missing a deadline…
… but there are missed deadlines, even the most perfect of worlds.
Option #2: Gear up, do the best job possible in the time you can give to the gig, working overnight if you must, and meet the deadline with something resembling a complete ad. Meet the deadline despite the crises. 
Schedule time to get at least some sleep, and to deal with the interfering emergency…
… but give the rest of your available time to the job. Make it happen.
I've even resorted to jamming out an ad in a couple of hours, to meet a deadline. Normally, I want weeks to carefully craft an ad… to research it, edit it, come up with multiple headlines, carefully craft the whole thing. However, I'm also capable of writing quickly, without the days of obsession and editing.
I prefer to have time to do it right.
But when time is not available, I do the best job I can inside of the small block of time I do have.
When you jam stuff out… what you end up with is what it is.
Just know that a top writer working at 70% is worth a lesser writer at peak output — which means, if you're a veteran writer, this rushing to meet the deadline at the last minute can still produce "good enough" copy.
If you're not a veteran writer… then you've got to make the call: Can you craft a complete ad — even an inferior one — in the time you do have available?
If you can't, then this isn't a good option for you.
Side note: The great Gary Halbert used to routinely finish ads, writing by hand on a legal pad, in the passenger seat of a car speeding to the client's office. I've written speeches in the airplane, flying to the event I'd be speaking at. I know writers who've recorded themselves talking out copy while in the shower, and editing the transcription in the lobby of the client's biz.
And I've written ads (and made major biz decisions on the phone) in hospitals, taking a break from attending to the loved one I was there to see. I never neglected my duties as part of the support team. But there was always time to break away for 20 minutes or an hour (when they were sleeping).
You do NOT need your usual "safe space" to create good copy, once you become a true professional. You use what you have.
Especially today, with modern technology. I've written ads on my iPhone, typing with thumbs.
No excuses.
Option #3: If you have even a day to spare, hire a ghost writer, and meet the deadline.
If the emergency forcing you to miss the deadline is also taking you away from your ability to do ANY work at all…
… but there is still time for SOMEONE to do it…
… then this is the best option.
Early in my career, I worked for copywriting legends like Jim Rutz (inventor of the magalog), Jay Abraham and Gary Halbert in these exact situations. Sometimes, even for my very first jobs with them…
… so we had no history, and they had no idea of I could deliver quality or not. But they hired me, because I was willing to throw myself into the fire, work all night (for several nights, if needed), and move heaven and earth to help them meet their sacred deadline. And they'd heard from other marketers that I met my deadlines…
… even when they were unreasonably short.
It was a great way to kickstart my reputation as a writer you could count on. And it got me inside their operations, where I soon held high-status positions.
If you need to hire a ghost writer, hit up your network and pay what you need to pay to meet the deadline. It might be all of your fee…
… which is acceptable, because this is an emergency situation.
Oh, wait. You don't have a network yet?
Well, why not?
One of your priorities in life should be to cultivate and nurture a network of colleagues who are in your biz. If you're a writer, then that network should be full of your writing peers — the sort of professionals you can hit up when you're forced to hire a ghost writer.
And those are your options.
Bottom line: Do not be bullied or guilt-tripped by the client — for your own peace of mind. Rest on your laurels if you have to — if your reputation is clean (because you've made meeting deadlines a professional habit), then this one time missing a deadline or returning the fee won't harm you much.
Recite: "It is what it is. Under normal conditions, meeting this deadline wouldn't be an issue. It is an issue, however, this time."
Then make your decision on the best option, and engage the client in conversation if you're backing out of the gig. The sooner he knows, the more he can mitigate the problems you've caused.
Seek the least damage to the client.
Side note: The best way to AVOID this travesty, of course, is to avoid agreeing to hard deadlines in the first place. Smart clients pad their deadlines, so they're not actually "hard", in the sense that missing it creates a disaster.
A "soft" deadline means there is still time after you turn in your manuscript before the ad runs, or gets printed, or the project starts. You're not turning in your copy the day before the launch or the print date.
That doesn't mean you can miss soft deadlines with impunity, though. The extra time is usually reserved for your copy being reviewed, fact-checked, and proofed. All very necessary stuff.
Top pro's who've had experiences with deadlines prefer this arrangement. If there's a problem — especially one in miscommunication between client and writer (including bad info, incorrect facts, and totally misunderstanding some essential part) — it can be caught early, during one of the multiple soft deadlines in the funnel.
It gets complicated, when writers don't want early drafts of their work seen by the client. I certainly do not want this.
However, it's very smart to insert soft deadlines where the client must get all info to you (so you can start writing)… where all facts (from phone numbers to links to research info) are double-checked… and where you float your hook (especially if it's outrageous) or sale-closing angles (including guarantees).
This saves everyone a lot of problems.
It also forces the writer not to wait until the last minute to start writing (which is why sudden emergencies cause such havoc). If you've got all the info double-checked, and you're sure of the facts you're working with, AND you've cleared your hook with the client…
… then having to finish up in a hurry (when unexpected shit hits your fan) becomes much, much easier.
Top writers know how to navigate life and business at a level far above how regular civilians operate.
Because people are counting on you.
Hope this helps.
Stay frosty,
John
P.S. Want more good advice like this, specifically for copywriters and consultants?
The "Freelance Course" is crammed with it.
Go here to check it out.
Many top working writers used this course to break away from the pack, and start earning the Big Bucks as their reputation grew by leaps and bounds.
Take your career seriously. This is a great place to start.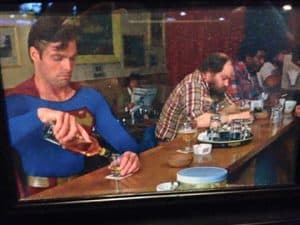 Monday, 2:21pm
Reno, NV
"Are you ready for a brand new beat?" (Martha & The Vandellas, "Dancin' In The Street")
Howdy.
Just cuz I'm such a nice guy, I like to gather recent Facebook posts I've published and lay them all out here on the blog…
… so you lazy types who can't be bothered reading social media will still enjoy the advice, tactics and weirdness I lay out for everyone else.
So here, in no particular order, is a fresh pile of the good stuff from the last month or so:
Pro Chaos Theory Tip #1: Freelance copywriters learn quickly that the level of functional insanity among biz owners…
… is astonishingly high.
A client who (rightly) wouldn't dream of interfering with his dentist, or plumber, or mechanic ("Here, let me drill for a bit on my molar — you're doing it wrong")…
… will routinely muck up and alter ad copy, no matter how accomplished the copywriter.
I've only had a tiny handful of clients in a 30-year career who resisted changing essential copy. The majority indulged in this ad-murdering habit (often after consulting with their English Lit major daughter, or the boys down at the local watering hole).
There are multiple ways to deal with this situation (the primary one is to establish yourself as "the adult in the room" early)…
… but first you have to realize what's happening. You can't "fix" dumb, and you can't soothe irrational rage…
… but you can (as a First Option) learn to identify who's gonna be trouble down the road, and choose not to play with dumb or irrational players.
Seems obvious. Isn't. If you don't stay aware, chaos will consume you.
—
Why are so many top writers introverts, I'm asked.
Easy.
It's an extroverted world. Introverts, to survive, must observe, understand and adopt extroverted models. This strengthens your Empathy muscles to absurd degrees.
The basic ingredient of good, persuasive writing is (aha!) empathy.
Extroverts are under no such pressure to study or change behaviors…
… and just get pissed off when forced to deal with introverts, who seem inscrutable and closed-off.
So, at least for writing, introverts have the advantage.
It's only fair, as the world tends to bully introverts in most other categories.
—
One of my goals is to become "That Uncle I Never Had" — a worldly guy who would have taken ME aside back when I was so tortured by the challenges and choices of life…
… and just laid out a good reality check. Not tell me how to live, but show me the OPTIONS.
A single freaking clue or two would have gone a long way helping my bewildered teenaged-self cope.
For example: The entire extended family was working class — we traded physical labor for wages. A noble lifestyle that valued hard work, sweat equity, and not getting too big for your britches.
However, I was a near-sighted, introverted thinker. Turning off my brain and rolling up my sleeves to concentrate on hauling, hammering, lifting and building was doable, but difficult. My dairy-owning cousins seemed to revel in it, and mocked my mental exhaustion from blocking critical thought.
It didn't dawn on me to pursue "brain work" until I hit 32. All my energies, up to that point, went into figuring out why I didn't fit in, pushing uphill against the micro-culture of being working class.
I felt like a traitor, and a weenie.
I finally got my own clue, said fuck it, and became a freelance writer.
And, surprise, I suddenly worked harder and with greater sweating glee than I ever thought possible. This square peg had finally quit trying to fit into a round hole.
Letting my brain off its leash launched the career I should have always pursued…
… if I'd ever gotten a clue it was even possible.
"That" uncle I never had would taken me aside and said "Johnny, me boy, you're different. And that's not just okay…
… but it's something to CELEBRATE. And pursue with gusto. Think, and write, and debate and go down dark mysterious philosophical alleys to your hearts content…
and NEVER be satisfied with mediocrity.
Or conformity. Just don't expect anyone to applaud your choices. You'll catch grief all the way… and that's to be seen as a badge of honor, not shame. Go your own way, and let your freak flag fly."
That's all most of us need in life — a clue. A hint that we're not wrong to want something else, or abnormal to not even know what you want yet…
… but that it's okay to wander away from the herd to find out.
I've met precious few people along the way who qualify as "that" uncle. So we can all use one.
This is why I write these long posts, and have kept the blog going for ten years. It infuriates some folks, but I'm writing for those who can use the advice and clues.
The truth is, going your own way won't always make you rich. And you gotta be okay with that, if you're gonna unleash your brain and heart.
Cuz sometimes, you will stumble upon wealth and happiness you cannot even comprehend now.
Life is one long risky adventure. And if you think you can make it safe and without drama, you're deluded.
Much better to embrace reality, prepare yourself for the game, and work hard on a solid, ethical and deliriously happy ride.
Big bonus if you help others and make the joint a better place.
—
Do you have smart friends who always seem to make dumb-ass decisions?
Are — ahem — YOU one of these miscreants yourself? (Confession: I am. More often than I care to admit.)
Well, gather 'round. I believe I've stumbled upon a solution.
Here it is: When you have an important decision to make…
… just ask yourself this simple question: "What would a smart person do?"
Then, go do that.
Do NOT (as so many of us somehow seem to do) ask "What would a blithering idiot do?"…
… and then go do that.
No, no, no. This is your self-intervention moment.
Don't be the blithering idiot.
Do be the smart person.
Sounds too simple and obvious to work, doesn't it?
Stunningly, it works.
Pass it around.
—
Random thoughts I probably should just keep to myself: It's the birthright of every American to bitch and moan about how things are run.
Heck, the country was birthed in a snit, and didn't last a generation before dissolving into civil war.
Still… as anyone who's ever had to meet a payroll knows…
… it's ridiculously easy to complain and insist you could do a better job…
… but it's infinitely harder to roll up your sleeves and actually get something done.
All pro copywriters who've had a client insist their changes made the ad "better" know that look the client gets when the results come in…
… and they're suddenly faced with the harsh reality of their doofusness.
It's similar to the look the drunk who thinks he's a great singer gets when he finds hisself onstage with a karaoke mic, exposed for the clueless wreck he actually is.
The world is divided into 3 groups: Those who know what they're doing, and do it well.
Those who don't know what they've doing, but figure it out.
And those those who refuse to acknowledge they are incompetent maroons, yet insist on being in control.
This is why true experts like to hang out with each other. Because the rest of the time, they're dealing with aggressive stupidity, misplaced overconfidence, and stubborn ineptitude.
Let the bitching and moaning commence.
No one can predict the future, but the universe always lays out hints…
—
I may have stumbled onto a scientific way to add MASSIVE productivity to your week.
It's just freaking amazing how awesome this tactic is.
In fact, it adds the equivalent of a entire EXTRA day to your workweek!
Wanna hear what is?
Okay.
Here's the secret: I woke up today thinking it was Friday. Was kinda bummed that I hadn't accomplished quite as much as I'd intended to this week…
… until I discovered it's actually Thursday.
Voila!
Entire extra day added!
Think I'll use this found time to goof off.
I mean, I earned it. Being a productivity scientist and all…
—
If you agree with everything you read… then you ain't reading the right stuff.
There's a baked-in bias in our brains that seeks consensus. And that's fine for civilians, whose shallow thinking usually causes little damage outside their social circle.
But when you've swum into the deeper part of the pool — whether in biz, politics, or celebrity — each new decision and action is fraught with larger consequences.
It's fine to be hard-headed when you actually know what the hell you're talking about.
It's pretty screwed up, however, to take your industrial-level naïveté (the polite word for raw ignorance) onto the Big Kids playground where maroonity is challenged and a real handicap to getting shit done.
Read more stuff that pisses you off, but don't GET pissed off. Instead, walk a mile in their shoes, and try to determine what is actually rankling you.
Our default internal mechanism of blindly rejecting the Other represents the worst of our tribal tendencies. The grand arc of civilization has been a relentless battle against that destructive thinking, but it requires disciplined effort.
Surrounding yourself with people and info sources that agree with you may seem the comfy way to go.
But it's a trap for anyone seeking to live fully and with gusto.
Life is rife with challenges. Instead of dodging them, embrace them.
It may make your brain buck and resist at first, but growth is never easy.
If growth bothers you, best to swim back to the shallow end.
—
And that's it for this session, folks.
Stay frosty,
John
P.S. Don't forget to solidify your position as a true bad-ass in your niche…
… by quickly learning how to write everything you need to persuade, sell, and nurture your customer base AND your future prospects.
Best way to pull that off: Take the Simple Writing System at-home program.
At your own pace, using your own best learning style, we'll simply and efficiently install murderously-good writing skills into your brain.
No matter how stubborn you are, or how convinced you've been that you "can't write". That's nonsense. We've taught thousands of entrepreneurs, biz owners and rookie writers how to write at the most awesome level possible…
… and if THEY could do it, then you can, too.
It's time to up your game.
See what the fuss is all about here.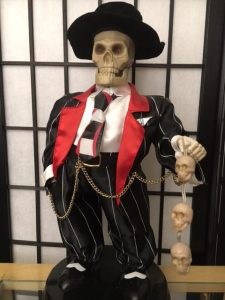 Sunday, 9:30pm
Reno, NV
"Have I got a deal for you…" (said no one, ever, truthfully)
Howdy.
You having a good week?
Nobody tried to cheat you out of anything, or make you look like a maroon?
That's good. You're walking the straight and true, and that's the real key to a life of wealth and happiness.
Still, sometimes it pays to see what's going down over in the darker side of town.
So let's share more of the "survival rules for entrepreneurs" I have in my consulting stash — the insights (from brutal experience) that helped me build a solid biz and reputation…
… but this time, let's wander into the really weird stuff for a spell. Be cautious, and don't make any sudden moves, okay?
Here's Rule #8: Convincing prospects to trust your bad self.
I first heard about "the trust game" from a wizened, street-savvy con man, early in my career.
I knew I needed to learn more about solid salesmanship tactics, and there were no books around explaining the good stuff. (There still aren't very many.) You had to search out the old-school guys who'd made their name working face-to-face with people…
… in situations where, if they didn't make the sale, they might not eat that night.
So they tended to get a little ruthless. Murdered their ethics, buried 'em in the back yard, and went out to work the "game".
I had no intention of conning people. These guys did not lead nice lives, and one of the reasons they got so good at working the con is that they often had to disappear quickly to avoid being busted. Sometimes they just split for a short time. Sometimes they left town altogether. Yes, there is another world, parallel to ours, where con men drift in and out of sight, following a sort of circuit across the country.
And with the dangerous games they play, they usually only have one shot to get it right, and losing wasn't an acceptable option.
So they learned the hard-core persuasion tactics.
The learned the confidence game.
I realized something, though: The same tactics they used for their crooked products…
… could also be used for high-quality, completely ethical products.
They were just too lazy to create good stuff.
Plus, it was obvious they also liked the thrill of being bad. Evil bastards, most of them.
But they were also kinda lonely.
And once you got them telling stories, you couldn't shut 'em up. When they sensed an appreciative audience, they just spilled everything, happily. Proud of their life's work.
So whenever I ran across one of these street-wise confidence men, I became their new best friend for an afternoon, grilling them for insight, tactics, warnings and horror stories.
And I never bored them by asking "Why don't you just go legit, and sell good stuff? You'd make an honest killing." They weren't interested in becoming legit.
A good life lesson right there, but we'll get into that another time.
Today, we're going deep in the confidence game.
So, here's the story…
Bob had grown up on the streets of Berkley, being a lookout as a kid, then a shill and later the dealer as a teen. By the time I met him, he had married a lawyer and was enjoying the good life as a kept man in the suburbs. But he loved to talk about the old days.
His "product", in this instance, was a classic 3-Card Monte street game. You set up a table on a corner, and had three playing cards placed in a row: Two red aces, and the black Queen of spades.
With the lookout watching for cops, the dealer would use slight of hand to move the cards around, inviting the marks (say, you, passing by and thinking "Hey, that looks easy") to guess where the Queen was now.
The shill was pretending to be a mark, actively engaged in the game. And winning money. He'd bet $20 that he could spot the Queen, lay down a bill, watch the dealer move the cards around…
… and then point to the card he insisted was the Queen. The dealer turned it over… and voila! The Queen.
"Yeah!" the mark would yell. "This is like taking candy from a baby," as he pocketed another twenty.
"You're gonna break me, man," whined the dealer, looking all sad and embarrassed.
Now, you, of course, would never indulge in illegal street games like this. No, no, no.
But it seemed so…
… easy. You followed the Queen without missing, just like the shill.
Why, all that money could have been yours. If you'd been betting.
"Hey, buddy," says the dealer, looking at you with imploring eyes. "You want to give it a try?"
What the hell. You throw a twenty down, watch the Queen get shuffled around… and you pick her out. The dealer turns the card over, and hey, you won! You followed the Queen, without trouble.
Easiest money you ever made.
You know where this goes, right?
You win the next time, too. And the next.
Then, the dealer — looking more frustrated than before — asks if you want to double down, maybe triple down. If the lookout has signaled a cop nearby, maybe the bet gets even higher. Big money, you're talking about now.
A pile of cash, just sitting there.
What a schmuck, you tell yourself. If this guy wants to give me more money, great.
And all of a sudden, it ain't so easy following where the Queen went.
You're pretty sure it's there, yeah, it's gotta be there on the left. Pretty sure.
And it ain't. Not this time. Or the next. Or the next.
And you just lost a little bundle.
The cop turns the corner, the dealer folds up the table and scurries off (with your lost dough) in one direction, the shill in the other… and you're wondering what the heck just happened.
"The con," my new BFF told me, "is all in building up confidence. Allowing the mark to trust that the dealer is who he presents himself as — a bungling maroon who can't hide a Queen amongst three cards to save his life."
He sat back. "I loved that game. You gotta really work to gain someone's trust."
My question (which I kept to myself) was: Why do all that work to gain trust…
… and then squander it on one transaction?
Why not actually have something of real value to offer? Something worth the money, that turns the mark into an actual customer…
… who comes back for more. The lifetime value of a customer who buys again and again — delighted with the quality of the product and service — is surely worth more than a quick rip-off (and the risk of spending the night in the pokey).
For marketers and biz owners like you — who strive to do the right thing, who have a great product valued fairly — the stark elements of this game should give you a hint how to create that lifetime customer.
It's all about trust.
Real trust, though. Not that smarmy fake stuff the street hustlers practice.
This is what's behind the free reports, the bonuses, the unconditional guarantees, and even the "double your money back" promises of classic marketing campaigns.
Every sale begins with a relationship. Sometimes, it's a brief one — you have something your prospect wants, he's done some shopping around and likes your prices (and guarantee), and the deal is done.
Other times, it's a more drawn-out affair. There has to be some wooing, some proof of your reputation and the quality of what you offer.
And the first steps may have to involve no risk at all.
Something for nothing, essentially. A "taste" of the goods. A chance to experience what it's like to own one.
In the con game, all this is rushed. And, in truth, you can't con an honest man. The hustler relies on teasing the greed of the average mark…
… who falls in love with the thrill of making an easy killing by putting one over on some street dude who is obviously an idiot.
Until he isn't.
In a rational marketing campaign, you have better things to use to engender trust.
You've been around for a while, with a track record you can verify, testimonials from real people who can vouch for you, and clear evidence that you are a square shooter with a high-quality product, priced fairly.
Yet, it's the same "game", essentially. You establish trust, you let the prospect drive the transaction (no pressure), and you deliver the product.
The big difference: You're doing it ethically.
While the con man cannot stand the thought of actually providing real value.
For him to "win", the mark has to "lose".
Just saying. The art of salesmanship goes back to the dawn of history, and can be used for good or evil.
Choose the right path, and I'll help you become successful, by continuing to share these insights.
More "survival rules for entrepreneurs" to come.
Stay frosty,
John
P.S. You know what else works in your favor, when you crave the Big Bucks and successful lifestyle of a damn good entrepreneur?
Knowing the "deep" secrets of awesome salesmanship.
Now, it took me DECADES of chasing down mentors and teachers (including all those old-school street-wise dudes)…
… along with the hard work of putting what I learned to work in the real world as a freelancer, and then as a consultant.
I have been around the block, my friend. And when you add the life experience of my biz partner, Stan Dahl (who was a ridiculously high-paid consultant for such companies as Starbucks and Wells Fargo before joining up with me to help entrepreneurs)…
… that's a lot of solid, real-world experience on display. Tons of advice, tactics, strategies, problem-solving tricks, and solutions to whatever might be holding you back.
And how do you take advantage of all this experience and savvy?
The most fun (and immediate, results-wise) way is to simply join our Platinum Group… which is a hybrid mastermind/brainstorm/workshop for solutions to the problems holding you back from the Big Bucks and the Good Life. Where we share everything we know about wealth and happiness and fixing what's wrong…
… no matter how bad you believe your problems are, or how unique you think your worries are.
There are answers to every problem, sticking point and disaster you encounter. We've been proving it in this globally-respected group for over 8 years now.
You'll be among colleagues who are just like you, who've encountered the same decision moments and crises, and seen the best and worst of life in the marketing fast-lane.
Just see why so many entrepreneurs have relied on this group over the years. You might just discover something about yourself…
… and you might realize why these kinds of groups have been the main go-to resource for the most successful business owners throughout history.
Just go check it out here.
No pressure. No obligation. Only a peek behind the scenes at the most talked-about and unique mastermind/brainstorm/workshop around…