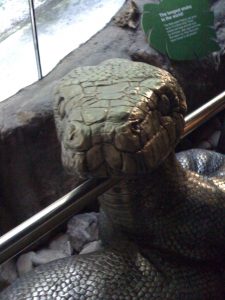 Friday, 3:33 pm
Reno, NV
"When the world is a monster, 'bout to swallow you whole…" (R.E.M., Can't Get There From Here)
Howdy…
Quick post today (I promise).
It's about a HUGE freakin' disaster lurking behind many entrepreneurs right now…
… like a snarly ugly googly-eyed monster sneaking up on your ass with fangs bared and claws clutching.
Some of you, right now, can feel its hot fetid breath on your neck.
Boo!
You know what this beast is?
It's the Great Unknown Future that most marketers are facing right now, as 2011 comes galloping around the corner.  And there are no fangs sharper, and no evil hunger more devouring than a recession-addled economy (licking its chops as it creeps up on you).
Now, here's a free piece of advice from a grizzled veteran of 30 years in the biz world:  I've successfully navigated at least 3 huge (and at least 3 other less-huge but still extremely painful) recessions since I began my career as a marketing expert.
I've done it alone…
… and I've done with the help, mentoring, and insight of folks who had been down that road before.
And I gotta tell you:  It SUCKS to do it alone.
And having a little solid, experienced help watching your back can almost immediately transform your progress.
In my consulting practice, I see a lot of lonely cowboys wandering the marketing range, trying to figure everything out on the fly. They have no one to shuck and jive with… no one to bounce ideas off of (so they never get honest feedback)…… Continue Reading