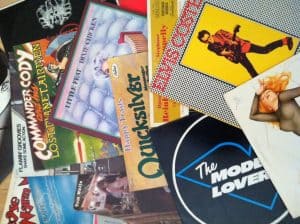 Monday, 8:28pm
Reno, NV
"Just take those old records off the shelf, I'll sit n' listen to 'em by myself…" (Bob Seger)
Howdy…
At the end of this post, I'll explain how you can win a bitchin' prize that will make you the envy of all your friends forever.
First, though — let's learn something about marketing to humans, whadya say?
Here's two quick "how to deal with the screaming chaos" tips for everyone in business today who's just a tad freaked-out at the way things seem to changing so damned FAST:
Screaming Chaos-Dealing Tip #1: If you're older, you need to cultivate solid relationships with younger folks who can help you understand the Zeitgeist of the dominant culture out there.  (Yes, even if you hate it.  Especially if you hate it, actually.)
And I'm not talking about having your nephew program your TV remote while you mow the lawn.
Nope.  I'm talking about entrepreneur-minded young adults, who just happen to be totally wired into the Grid…
… and can translate current trends while offering you some solid, smart perspective.
And…
Screaming Chaos-Dealing Tip #2: If you're a young entrepreneur, you need to cultivate relationships with geezers who can give you some perspective on how we GOT to this current state of affairs.
Key thing to remember: … Continue Reading