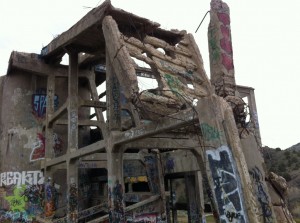 Wednesday, 12:53pm
Reno, NV
"I'm busy 24 hours a day, I fix broken hearts, I know that I truly can…" (Del Shannon, "Handyman")
Howdy.
Today, I want to share with y'all a simple pro-level tactic that just might change your career path forever… if, like most entrepreneurs out there, you're laboring under a huge and common misunderstanding of how things work in the real world.
Here's the problem: Most folks only see the surface of the culture, and seldom get to peek behind the curtain to see the infrastructure that supports everything.
Now, if you're stumbling through life as a slacker or a follower… just bobbing to and fro like flotsam… then learning how stuff gets created isn't important.
But entrepreneurs do not have that luxury. Once you take responsibility for the survival of a business, you better get hip to the Big Picture.
This means understanding the process of arriving at a finished product. Which requires rolling up your sleeves and getting dirty (or virtually dirty, in the digital world).
Here's the quick tale of how I was introduced to this realization: Back in school, I was that doodling kid who just kept getting better at it… until one day the journalism teacher found one of the endless homemade comic books I was pumping out, and insisted I create a weekly cartoon for the high school newspaper.
Now, I loved the comics page in the local rag (the LA Times). The idea of drawing a comic strip of my own, however, was terrifying. I didn't have a clue how they were actually made. Up to that point, I drew only in pencil, on big sheets of scrap paper, with no limits to sizing or length. Now, suddenly, I had to work in ink, inside a 3-inch by 4-column format.
And meet a deadline.
In retrospect, I should have just hit up the art teacher for tips on producing a cartoon in a publication. Or called up the local "real" newspaper and ask a production artist how it's done.
But I had never had to research anything before. Like most American kids, I had spent my youth tearing things apart, not building them. I'd never asked anyone how something was done, ever. I just figured it all out for myself, in my own idiosyncratic way, thinking that's how it had to happen. You "should" be able to figure everything out.
It's a flaw in our brains.
Back then, the hard part of doing a weekly cartoon was coming up with jokes that fit into a four-panel format. But what consumed the most time was producing the final strip. I bought a double-aught nib in a wooden holder at the crafts store, plus a big bottle of India ink. And I drew veeeeeeery carefully…
… because I believed that published cartoons were drawn that way. You know, that Charles Schultz just sat down and inked out a Peanuts strip from left to right.
And if I made a mistake… Continue Reading