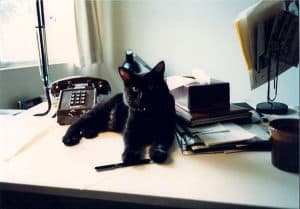 Monday, 3:33pm
Rancho Cucamonga, CA
"One way or another, I'll gitcha, I'll gitcha, I'll gitcha gitcha gitcha…" (Blondie)
Howdy.
Okay, quick post today… aimed at ruining your life by prying open the profit floodgates with a few simple rules even grizzled old veterans seldom learn.
We'll discuss later how to deal with all the extra moolah (so you can salvage an excellent life once the realities of being richer sink in).
(Tee hee.)
First, let's make sure you understand these 3 basic (and mostly ignored or botched) rules from our Operation MoneySuck manual.
Ready? Okay, release the life-changing stuff:
Op$uck Rule #1: Get an assistant.
Hey, I totally understand the "go it alone" mindset of the average entrepreneur. I was a one-man-band for the first 5 years of my career — if you got a letter or phone call from my office (in my collapsing beach house in Hermosa), it was from me.
However, once I decided to start teaching and offering courses and coaching, I took to heart the Prime Operation MoneySuck Directive: "If you're the dude responsible for bringing in the big bucks, then that's your #1 job. And your #2 job, and #3 job, etc. Hire out or delegate everything else."
I brought on a part-time assistant for 10 hours a week, who worked out of her house (so we communicated mostly by email, phone and only occasional visits). She was smart, had biz experience, and was thrilled to have a part-time gig with totally flexible hours, with a generous and savvy boss (me) so she could work from home and raise her kid.
When I realized those 10 hours were INSTANTLY gobbled up by random stuff like scheduling consultations, dealing with refunds and printers and non-essential client requests…
… it became obvious that I'd been STEALING 10 hours of energy/time/thinking/effort from my biz. Which I could have been force-feeding back into the money-making part of that same biz.
Total WTF moment. Continue Reading