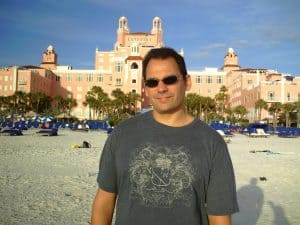 Sunday, 3:25
Tampa Bay, Florida
"So I said to the captain, please bring me my wine… he said we haven't had that spirit here since 1969…" (Hotel California, of course)
Howdy.
Another guest blog post here (while I'm off to get ready for the totally awesome Action Seminar down in sunny San Diego this coming weekend)…
… by our good friend (and notorious freelance copywriter) Kevin Rogers.
I asked him to share the stories below, because they cracked me up when he first told them to me…
… and I realized the lessons for entrepreneurs here are just as solid as the stuff I picked up (early in my own career) from the street-wise salesmen I hung around.
Those real-world lessons from the dudes who knew how to close a deal face-to-face are critical to any decent sales process… even if you're completely digital and never actually meet your prospects in the flesh.
This stuff is pure gold.  So listen up.  Here's Kevin…
Thanks, John.
Okay, let me tell you a story about why bellmen don't mind wearing those goofy uniforms at busy hotels and resorts… and how the lessons I learned in the job fit so well in the entrepreneurial world.
It's true.  One of the most eye-opening jobs I held in my previous life — before freelance copywriting — was as a main entrance bellman here in Florida.
I learned more about "street-smart selling" in my short time in that role than from any other gig, including stand-up comic, bartender, or even Marketing VP of an online real estate company.
Here's why… Continue Reading